Product Description
Hot Selling SS316L SS304L Stainless Steel Pipe Fittings Clamps Internal Threaded Straight Couplings
Datesheet
| | |
| --- | --- |
| Product Name | Stainless Steel Fitting |
| Shape | Union, Tee, 90° Elbow, 45° Elbow, Bushing, Cap, Coupling, Cross, Nipple, Plug |
| Color | Silver |
| Head Code | Hexagonal / Round |
| Body Material  | Stainless Steel |
| Thread Type  | UNF / UNC / NPT / BSPT / BSPP /RP / SAE |
| Technics | Forged |
| Certificate | ISO |
| Sample | Free Sample |
| Customized Support | OEM, ODM |
Advantage
.Mayer Stainless Steel pipe systems are the first choice in metallics for flexibility, durability, ease of installation and longevity.
.Suitable for commercial and industrial applications.
.Mayer pipe systems deliver a competitive return on investment, with a favorable total cost of ownership.
.An extensive range of pipes and fittings from 15mm to 300mm provides installers with a complete solution to meet diverse needs.
.Quality is assured: all pipes and fittings must pass rigorous air and water tightness tests before leaving the factory.
Factory and Facility
Main Products
Certificates
FAQ
Q1: Are you manufacture?
A: YES we are manufacturer.
Q2: Do you provide free sample?
A: YES, we supply you free sample within 1 day.
Q3: What is your deivery time?
A: Our delivery time is normally 7 to 15 days after deposit.
Q4: What is the payment terms?
A: We accept T/T, L/C at sight, PayPal & West union.
 
Q5: May I visit your factory?
A: Yes we welcome your visiting us someday at your convenience.
 
Q6: Can you accept our deisgn and products?
A: Yes we have professional engineer teams. We can deisgn and produce special products
   According to customers' request.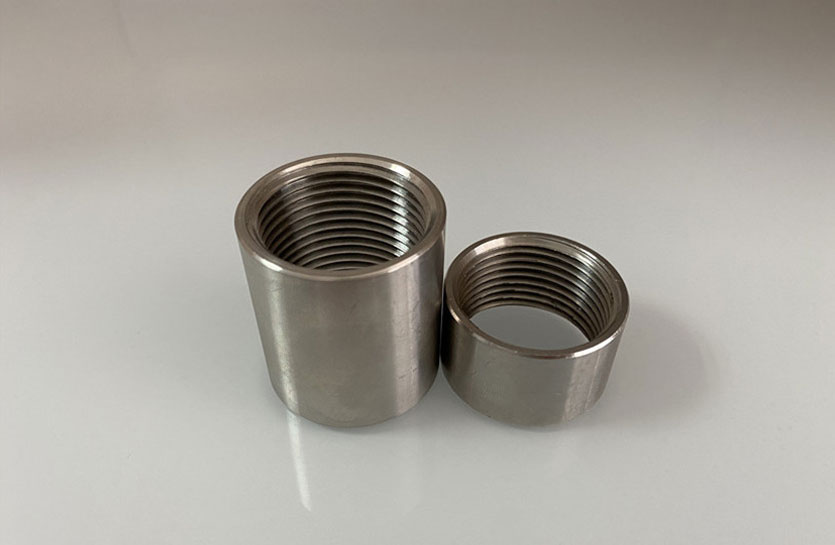 What are the Maintenance Requirements for Stainless Steel Couplings to Ensure Their Longevity?
To ensure the longevity and optimal performance of stainless steel couplings, regular maintenance is essential. The maintenance requirements for stainless steel couplings typically include:
Regular Inspection: Conduct routine visual inspections of the coupling to check for signs of wear, corrosion, or damage. Inspect the coupling's fasteners and ensure they are properly tightened.
Lubrication: Some stainless steel couplings may require periodic lubrication of the moving parts to reduce friction and wear. Follow the manufacturer's guidelines for the appropriate lubricant and frequency of application.
Cleaning: Keep the coupling clean from debris, dirt, and contaminants. Regularly clean the coupling using appropriate cleaning agents to prevent the build-up of foreign particles that could lead to accelerated wear.
Alignment Check: Verify that the shafts connected by the coupling are properly aligned. Misalignment can lead to increased stress on the coupling and reduce its service life. If misalignment is detected, take corrective measures to realign the shafts.
Torque Check: Periodically check the torque on the coupling's fasteners to ensure they are properly tightened. Loose fasteners can result in coupling slippage and potential failure.
Replacement of Worn Parts: If any components of the stainless steel coupling show signs of wear or damage beyond acceptable limits, they should be promptly replaced with new parts from the original manufacturer.
It is important to follow the maintenance schedule recommended by the coupling manufacturer. Different applications may have specific maintenance requirements based on factors such as operating conditions, torque levels, and environmental exposure. By adhering to proper maintenance practices, operators can extend the lifespan of the stainless steel coupling, reduce the risk of unexpected failures, and ensure consistent and reliable performance in their mechanical systems.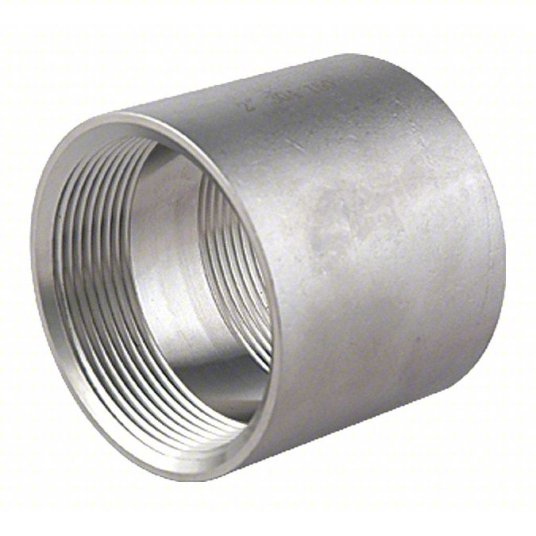 Design Considerations for Stainless Steel Couplings in Marine or Corrosive Environments
Stainless steel couplings are often used in marine or corrosive environments due to their corrosion-resistant properties. However, there are some specific design considerations to ensure optimal performance and longevity in such harsh conditions:
Material Selection: Choose the right grade of stainless steel that offers the best corrosion resistance for the specific marine or corrosive environment. Common stainless steel grades used in such applications include 316 and 316L, which provide excellent resistance to seawater and various corrosive agents.
Surface Finish: Ensure that the coupling's surface has a smooth and polished finish. A smooth surface minimizes the accumulation of contaminants and reduces the risk of crevice corrosion in marine environments.
Sealing: Implement effective sealing mechanisms to prevent moisture and contaminants from entering the coupling. Seals such as rubber gaskets or O-rings can help protect the coupling's interior and reduce the risk of corrosion-related failure.
Coatings: Consider applying additional protective coatings or treatments to enhance the coupling's corrosion resistance. Coatings like epoxy or zinc can provide an extra layer of protection against marine and corrosive elements.
Isolation: In some cases, it might be beneficial to isolate the coupling from direct contact with seawater or corrosive substances. Mounting the coupling on non-corrosive materials or using isolating bushings can help minimize the impact of harsh environments.
Regular Maintenance: Perform routine inspections and maintenance to check for signs of corrosion or wear. Regularly clean the coupling and remove any accumulated debris or contaminants to prevent accelerated corrosion.
Testing: Before deploying stainless steel couplings in marine or corrosive environments, conduct thorough testing to ensure they meet the specific requirements of the application. This testing can include corrosion resistance testing and performance evaluations under simulated conditions.
Monitoring: Implement monitoring systems to detect any early signs of corrosion or degradation. Monitoring can help identify potential issues before they lead to coupling failure and allow for timely preventive measures.
By carefully considering these design considerations and implementing appropriate measures, stainless steel couplings can withstand the challenges of marine or corrosive environments and maintain their performance and durability over time.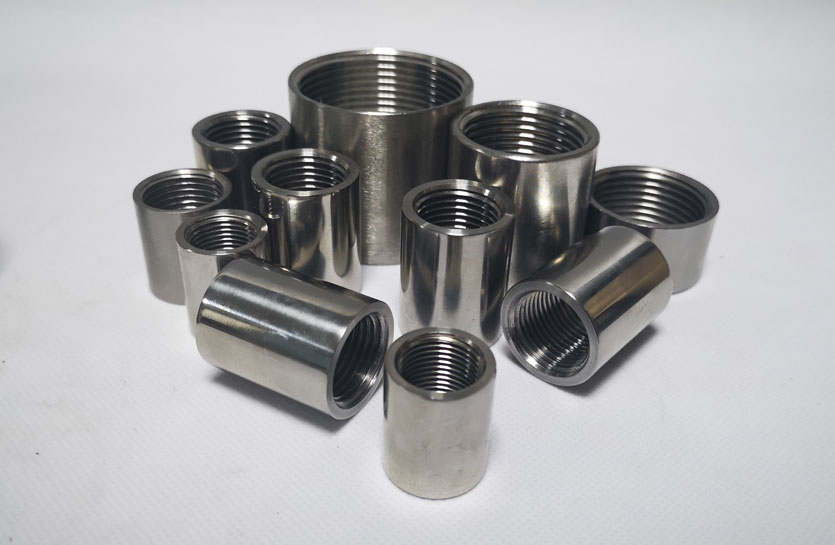 Advantages of Stainless Steel Couplings in Various Applications
Stainless steel couplings offer several advantages that make them suitable for a wide range of applications in diverse industries:
1. Corrosion Resistance:
The primary advantage of stainless steel couplings is their exceptional resistance to corrosion. They can withstand exposure to moisture, chemicals, and aggressive environments, making them ideal for applications in marine, chemical processing, and food industries.
2. Durability:
Stainless steel couplings are known for their strength and durability. They can handle high loads and provide reliable performance over extended periods, reducing the need for frequent replacements and lowering maintenance costs.
3. Hygienic Properties:
In industries like food, pharmaceuticals, and healthcare, stainless steel couplings are preferred due to their hygienic properties. They are easy to clean and maintain, ensuring that the transmission of power does not pose any risk of contamination.
4. Temperature Resistance:
Stainless steel couplings can operate efficiently over a wide temperature range, making them suitable for both low-temperature and high-temperature applications.
5. Versatility:
Stainless steel couplings can be used with different types of shaft materials without causing galvanic corrosion. This compatibility allows for flexibility in coupling selection for various equipment setups.
6. Aesthetic Appeal:
Stainless steel has an attractive, polished surface finish, which enhances the visual appeal of equipment where the couplings are visible.
7. Reduced Maintenance:
Thanks to their corrosion resistance and durability, stainless steel couplings require minimal maintenance, resulting in cost savings and increased uptime.
8. Safety and Reliability:
Stainless steel couplings offer high reliability in critical applications, ensuring safe and uninterrupted operation of machinery.
9. Resistance to Wear and Tear:
Stainless steel couplings resist wear and tear caused by frequent start-stop cycles or shock loads, ensuring consistent performance over time.
Overall, stainless steel couplings are favored in applications where corrosion resistance, strength, and reliability are crucial. Their versatility and ability to perform well in challenging environments make them a valuable component in a wide range of industrial machinery and equipment.
"`




editor by CX 2023-08-18