Product Description
Made in China Pnuematic SS304 Stainless Steel (SSEU-SM20) Europe Universal Male Socket Air Quick Coupling

Other models
| | |
| --- | --- |
| Model | Thread(G) |
| SSEU-SM20 | 1/4" |
| SSEU-SM30 | 3/8" |
| SSEU-SM40 | 1/2" |
FEATURES
1. We make Euro Universal coupler, Germany coupler, Italy coupler, UK coupler, Israel coupler etc.
2. Target market: Europe, South America, Middle East.
3. Material: Steel, Brass, Stainless Steel.
4. Various surface coating: Chrome plated, Nickel plated, Copper color etc.
5. Proven and positive connection using ball-locking mechanism.
6. Used for air tools and air compressors.
 
SPECIFICATION
1. Max. Working Pressure: 150 Psi.
2. Temperature: – 40° F to 225° F(-20° C to 107° C).
3. Air Flow: 35 SCFM at 100 CZPT inlet with 10 CZPT pressure drop.
 
ADVANTAGE
1. Safety connection and disconnection.
2. The coupler automatically vents pressure before release.
3. The coupler prevents accidental hose whip 
4. Fit for compact space, good gripping.
Coupler Standard

Packing & Shipping
Packing:
Transparent plastic bag + white small box + neutral carton + pallet
Custom packaging are available, XHnotion brand packaging are available
 
Shipping :
Export port: HangZhou or ZheJiang , China.
Shipping way: by sea, by air, by courier.
Express: TNT, DHL, UPS, FedEx, SF Express.
Delivery time: 3 days to 30 days depends on actual orders.
WHY CHOOSE US?
 
1) We offer 1 stop solution. Over 5000 items for you to save efforts and costs.
2)We have molds workshop, die-casting workshop, CNC workshop, plastic injection workshop to make sure each part exactly as the drawing and good function. 
3) We will reply you within 24 hours.
4) Whatever quantity you are requesting, we always offer you the best quality. 
5)3D drawing, cad drawing service for custom fittings, hose, valve, cylinder.
Our Company
XHnotion originate from notion between pneumatic power and human.
(X stands for winds, H stands for human)
In Chinese, XHnotion stands for 'we do, we promise'  we read it 'X-notion'.
The company XHnotion Pneumatic was founded in 2007 and has developed with a steadily growing success to a reliable partner for international established clients.
This success of the company XHnotion Pneumatic is based on:
High class quality standard
Customer satisfaction
Fair price policy
Flexibility
The high-class quality standard of the products of company XHnotion is reflected in our quality management system, certificated ISO 9001:2008. And we got CE, RoHS, REACH certificate for international market. 
XHnotion Pneumatic manufactures below products:
Pneumatic Components: air cylinder, solenoid valve, FRL
Solenoid Calve: standard solenoid valve, multipurpose solenoid valve, pneumatic angle valve
Pneumatic Fittings: plastic pneumatic fittings, mental pneumatic fittings, pneumatic muffler, water push in fittings
Air Gun & Couplers: pneumatic couplers, air guns, air tool kits
Air Hoses: air tubing, PTFE tubes, tube cutter, pipes
FAQ
Payment Terms :
We accept T/T, L/C, Paypal, Western Union, Money Gram, etc.
 
Samples Policy :
For regular valves, samples against your courier account or you pick up from us.
For custom items, we will discuss by email.
 
Return Policy: 
We assure you 1 year policy after shipment. 
If there is any problem during this period, please contact us for support.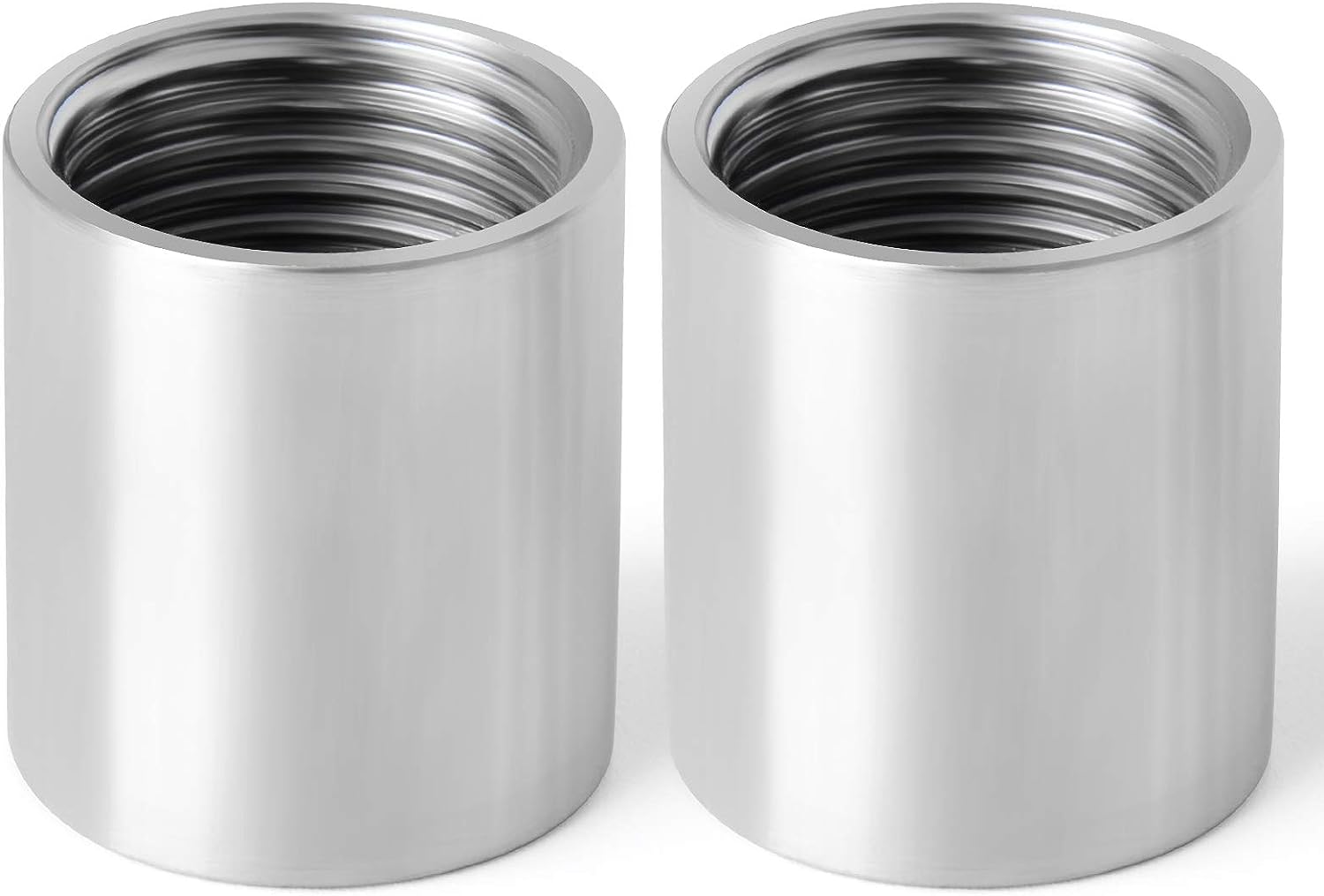 What Industries Commonly Use Stainless Steel Couplings, and Why?
Stainless steel couplings are widely used in various industries due to their excellent properties and benefits. Some of the common industries where stainless steel couplings find significant usage include:
Food and Beverage: Stainless steel couplings are prevalent in the food and beverage industry because of their high corrosion resistance and hygienic properties. They are suitable for applications where the coupling may come into contact with water, food products, or cleaning agents.
Chemical Processing: In chemical processing plants, stainless steel couplings are preferred for their resistance to chemical corrosion. They can handle various chemicals and aggressive substances, making them suitable for pumps, mixers, and other equipment in the chemical industry.
Pharmaceutical: The pharmaceutical industry requires equipment that meets strict hygiene standards. Stainless steel couplings are easy to clean, durable, and resist contamination, making them ideal for pharmaceutical manufacturing processes.
Oil and Gas: In the oil and gas sector, stainless steel couplings are used in pipelines, compressors, and drilling equipment due to their ability to withstand harsh and corrosive environments, especially in offshore drilling operations.
Marine: Stainless steel couplings are widely used in marine applications because of their resistance to saltwater corrosion. They are found in propulsion systems, winches, and other marine equipment.
Aerospace: In the aerospace industry, where weight and reliability are crucial, stainless steel couplings are used in aircraft engines and other critical components to provide high-performance power transmission.
Pulp and Paper: The pulp and paper industry requires equipment that can handle the moisture and chemical-laden environment of paper mills. Stainless steel couplings are corrosion-resistant and suitable for various applications in this industry.
Power Generation: In power plants, stainless steel couplings are used in turbines, generators, and other equipment that require reliable power transmission and resistance to harsh operating conditions.
Mining: The mining industry utilizes stainless steel couplings in conveyor systems, crushers, and other equipment that requires high durability and resistance to abrasive materials.
In summary, stainless steel couplings are chosen for their corrosion resistance, durability, and reliability. They offer the ability to withstand challenging environments and ensure smooth power transmission, making them a preferred choice in a wide range of industries.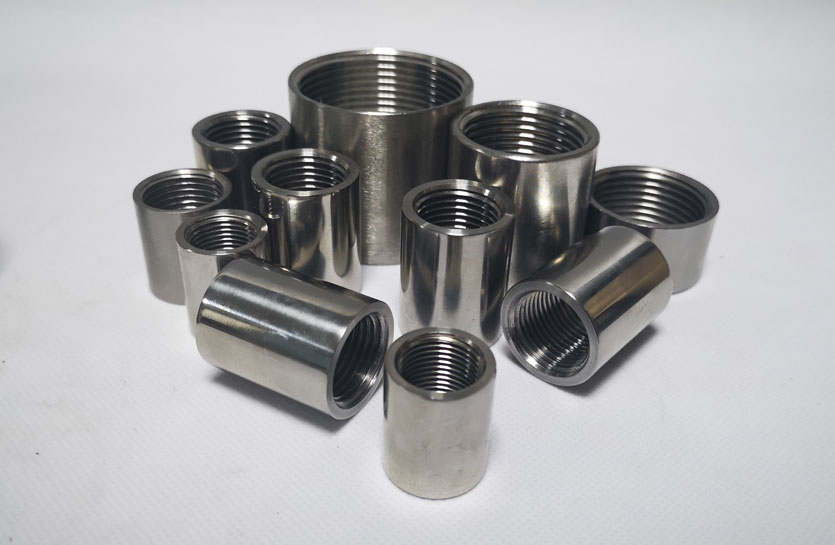 Causes of Failure in Stainless Steel Couplings and Prevention
Stainless steel couplings are designed for durability and reliability, but like any mechanical component, they can experience failure under certain conditions. Understanding the potential causes of failure and taking preventive measures can help ensure the longevity and performance of stainless steel couplings. Some common causes of failure include:
1. Overloading: Exceeding the maximum torque or load capacity of the coupling can lead to deformation or breakage. To prevent overloading, it's essential to choose a coupling with the appropriate torque and load ratings for the specific application.
2. Misalignment: Misalignment between shafts can create additional stresses on the coupling, leading to premature wear and failure. Regularly inspect and adjust shaft alignment to ensure it stays within the coupling's allowable limits.
3. Corrosion: While stainless steel is corrosion-resistant, it is not immune to corrosion, especially in harsh environments with exposure to corrosive substances. Regular cleaning and maintenance can help prevent corrosion-related failure.
4. Fatigue: Repeated cycles of loading and unloading can cause fatigue failure in the coupling. Ensure that the coupling's rated fatigue life matches the application's requirements and replace worn-out couplings promptly.
5. Installation Errors: Improper installation, such as insufficient tightening of set screws or improper keyway fitting, can lead to coupling slippage and failure. Follow the manufacturer's guidelines for correct installation procedures.
6. Contamination: Foreign particles or debris can get trapped between the coupling's mating surfaces, leading to uneven loading and premature wear. Keep the coupling and surrounding area clean to avoid contamination-related issues.
7. Temperature Extremes: Extreme temperature variations can affect the material properties of the coupling and lead to failure. Choose couplings rated for the temperature range of the application.
8. Vibration and Resonance: Excessive vibration or resonance can cause stress concentrations in the coupling, leading to fatigue failure. Dampen vibrations and resonance using appropriate mounting and isolation techniques.
9. Material Defects: Occasionally, manufacturing defects in the stainless steel coupling can cause premature failure. Source couplings from reputable manufacturers with a track record of quality and reliability.
Preventive Measures: To prevent failure and ensure optimal performance, consider the following preventive measures:
Choose the right coupling type and size for the application's torque and load requirements.
Regularly inspect and maintain the coupling, checking for signs of wear, misalignment, or contamination.
Ensure proper installation following the manufacturer's guidelines.
Monitor operating conditions and address any unusual vibrations or temperature variations promptly.
Perform regular shaft alignment checks to avoid excessive misalignment.
Use protective measures such as seals or covers to prevent contamination and corrosion.
Monitor coupling fatigue life and replace worn-out couplings before they reach their fatigue limit.
By understanding the potential causes of failure and implementing appropriate preventive measures, users can increase the reliability and longevity of stainless steel couplings in their applications.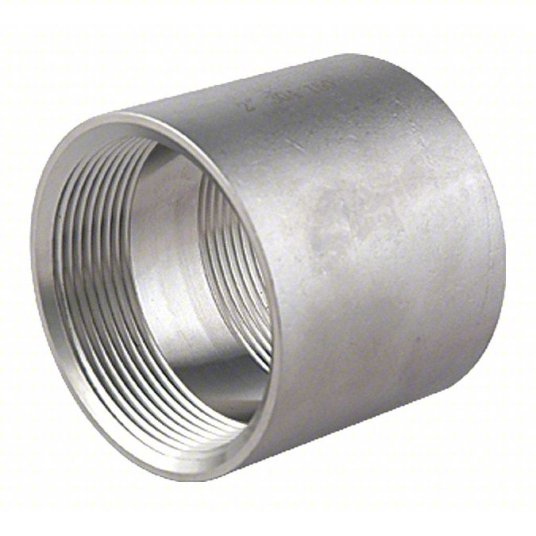 Types of Stainless Steel Couplings
Stainless steel couplings come in various designs and configurations to suit different application requirements. Some common types of stainless steel couplings available in the market include:
1. Clamp-Type Couplings:
These couplings consist of two hubs with screws or clamps that tighten around the shafts to create a secure connection. Clamp-type couplings are easy to install and provide good torque transmission while accommodating shaft misalignments.
2. Oldham Couplings:
Oldham couplings have a unique three-piece design with two hubs connected by a center disk. The disk is made of a different material like acetal or nylon and allows for zero-backlash operation and misalignment compensation.
3. Jaw Couplings:
Jaw couplings are made of two hubs with elastomeric inserts, known as spider elements, that provide shock absorption and misalignment compensation. They are commonly used in pumps, compressors, and other machinery.
4. Disc Couplings:
Disc couplings consist of multiple thin stainless steel discs stacked together with spacer elements. They offer high torsional stiffness and are suitable for applications requiring high torque transmission and precision.
5. Bellows Couplings:
Bellows couplings use thin-walled stainless steel bellows to compensate for misalignments while maintaining a hermetic seal. They are commonly used in vacuum systems and applications requiring precision motion control.
6. Grid Couplings:
Grid couplings feature a flexible grid element between two hubs, providing excellent shock absorption and misalignment compensation. They are commonly used in heavy-duty applications.
7. Multi-Beam Couplings:
Multi-beam couplings have multiple beams that offer flexibility and compensate for misalignments while maintaining torsional stiffness. They are suitable for precise motion control applications.
Each type of stainless steel coupling has its unique advantages and is designed to meet specific performance criteria. When selecting a stainless steel coupling for a particular application, it is essential to consider factors like torque requirements, misalignment compensation, and environmental conditions to ensure optimal performance and longevity.
"`




editor by CX 2023-08-08