Product Description
Camlock Coupling
 1.size:
1/2″-6″
2.body:
stainless steel 304 316
3.gasket:
buna(NBR),and Telfon
4.specification:
MIL-C27487
5.test pressure:
3/4″-2″    250PSI(17.6bar)        3″-4″    200PSI(14.8bar)     2 1/2″   225PSI(15.8bar)
6″    150PSI(10.5bar)
6.application:
oil,petroleum,chemical,water,gas
7.thread:
NPT,BSP,BSPT,DIN259,DIN2999
 FAQ
1. Are you a factory or a trading company?
   We are both, we have our own factory and the trading company based on our factory.
2. Can the products print logo?
    Yes, we do OEM& ODM orders.
3.How about the samples? 
Samples are free and express charge is paid by the buyer. 
4. How much about the mold?
Mold is free for you once details are confirmed
5. How about the payment term?
   T/T. 30% advanced payment,70% balance before the shipment.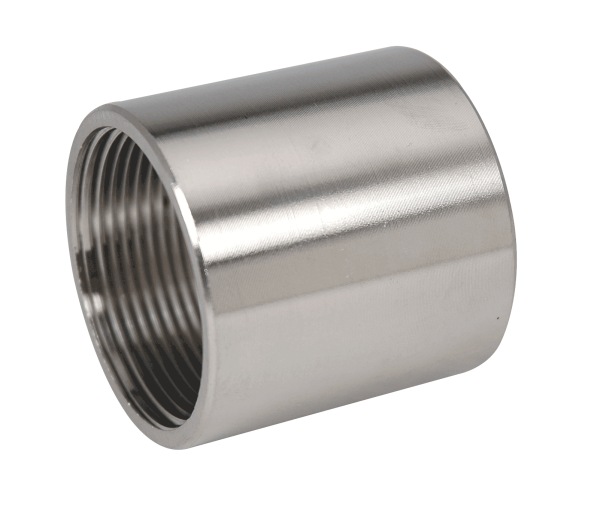 How Does the Grade of Stainless Steel Used in Couplings Impact Their Performance?
The grade of stainless steel used in couplings has a significant impact on their performance and suitability for specific applications. Stainless steel is an alloy that contains varying amounts of elements like chromium, nickel, and molybdenum, which give it different properties. The most common grades of stainless steel used in couplings are:
Austenitic Stainless Steel (e.g., 304, 316): Austenitic stainless steel is the most widely used grade in couplings due to its excellent corrosion resistance, high ductility, and non-magnetic properties. Grade 304 is commonly used in general-purpose applications, while grade 316 offers higher corrosion resistance, making it suitable for more aggressive environments like marine or chemical industries.
Ferritic Stainless Steel (e.g., 430, 446): Ferritic stainless steel has lower corrosion resistance compared to austenitic grades but offers better resistance to stress corrosion cracking. It is used in certain coupling applications where moderate corrosion resistance is sufficient.
Martensitic Stainless Steel (e.g., 410, 420): Martensitic stainless steel is known for its hardness and strength. It is used in couplings that require higher mechanical properties, but it may have reduced corrosion resistance compared to austenitic grades.
Duplex Stainless Steel (e.g., 2205, 2507): Duplex stainless steel combines the properties of austenitic and ferritic grades, offering high strength and better resistance to stress corrosion cracking and pitting. It finds applications in critical coupling systems where both strength and corrosion resistance are essential.
The choice of stainless steel grade depends on the specific requirements of the coupling application. Factors such as environmental conditions, exposure to corrosive substances, temperature, and mechanical stresses must be considered when selecting the appropriate grade. For example, couplings used in marine environments may require a high-grade austenitic stainless steel like 316 to withstand saltwater corrosion, while couplings in food processing may use grade 304 for its hygienic properties and general corrosion resistance.
In summary, the grade of stainless steel used in couplings directly influences their performance in terms of corrosion resistance, strength, ductility, and suitability for various applications. Proper selection of the stainless steel grade ensures that the couplings deliver reliable and long-lasting performance in their intended operating conditions.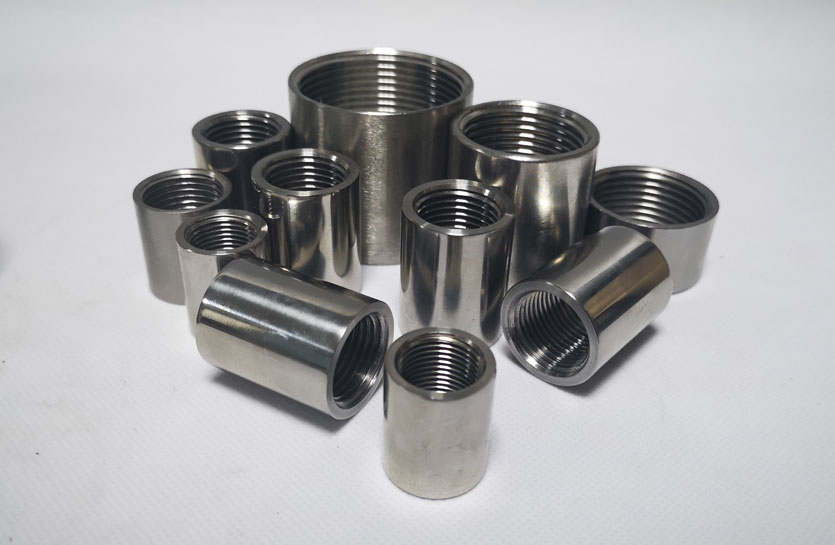 Causes of Failure in Stainless Steel Couplings and Prevention
Stainless steel couplings are designed for durability and reliability, but like any mechanical component, they can experience failure under certain conditions. Understanding the potential causes of failure and taking preventive measures can help ensure the longevity and performance of stainless steel couplings. Some common causes of failure include:
1. Overloading: Exceeding the maximum torque or load capacity of the coupling can lead to deformation or breakage. To prevent overloading, it's essential to choose a coupling with the appropriate torque and load ratings for the specific application.
2. Misalignment: Misalignment between shafts can create additional stresses on the coupling, leading to premature wear and failure. Regularly inspect and adjust shaft alignment to ensure it stays within the coupling's allowable limits.
3. Corrosion: While stainless steel is corrosion-resistant, it is not immune to corrosion, especially in harsh environments with exposure to corrosive substances. Regular cleaning and maintenance can help prevent corrosion-related failure.
4. Fatigue: Repeated cycles of loading and unloading can cause fatigue failure in the coupling. Ensure that the coupling's rated fatigue life matches the application's requirements and replace worn-out couplings promptly.
5. Installation Errors: Improper installation, such as insufficient tightening of set screws or improper keyway fitting, can lead to coupling slippage and failure. Follow the manufacturer's guidelines for correct installation procedures.
6. Contamination: Foreign particles or debris can get trapped between the coupling's mating surfaces, leading to uneven loading and premature wear. Keep the coupling and surrounding area clean to avoid contamination-related issues.
7. Temperature Extremes: Extreme temperature variations can affect the material properties of the coupling and lead to failure. Choose couplings rated for the temperature range of the application.
8. Vibration and Resonance: Excessive vibration or resonance can cause stress concentrations in the coupling, leading to fatigue failure. Dampen vibrations and resonance using appropriate mounting and isolation techniques.
9. Material Defects: Occasionally, manufacturing defects in the stainless steel coupling can cause premature failure. Source couplings from reputable manufacturers with a track record of quality and reliability.
Preventive Measures: To prevent failure and ensure optimal performance, consider the following preventive measures:
Choose the right coupling type and size for the application's torque and load requirements.
Regularly inspect and maintain the coupling, checking for signs of wear, misalignment, or contamination.
Ensure proper installation following the manufacturer's guidelines.
Monitor operating conditions and address any unusual vibrations or temperature variations promptly.
Perform regular shaft alignment checks to avoid excessive misalignment.
Use protective measures such as seals or covers to prevent contamination and corrosion.
Monitor coupling fatigue life and replace worn-out couplings before they reach their fatigue limit.
By understanding the potential causes of failure and implementing appropriate preventive measures, users can increase the reliability and longevity of stainless steel couplings in their applications.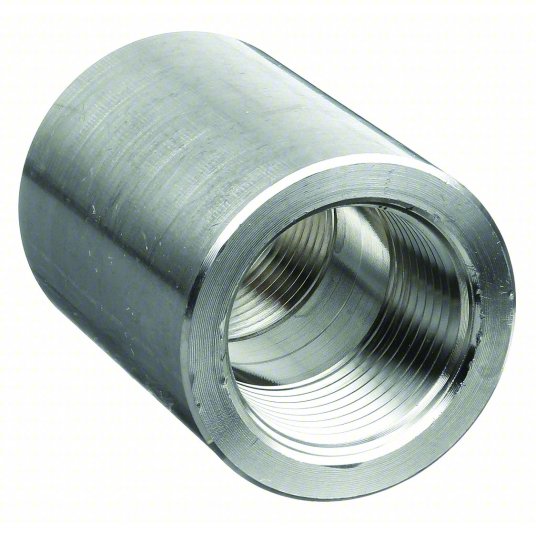 Corrosion Resistance of Stainless Steel Couplings in Harsh Environments
Yes, stainless steel couplings are highly resistant to corrosion and rust in harsh environments. This exceptional corrosion resistance is a result of the specific composition of stainless steel, which includes chromium as a major alloying element.
Chromium forms a protective layer of chromium oxide on the surface of the stainless steel, which acts as a barrier against oxygen and other corrosive elements. This passive layer prevents the metal beneath from coming into direct contact with the surrounding environment, effectively shielding the coupling from corrosion and rust.
In harsh environments where the coupling is exposed to moisture, chemicals, high temperatures, or saltwater, the corrosion-resistant properties of stainless steel ensure that the coupling remains unaffected by the corrosive agents. This makes stainless steel couplings suitable for applications in marine environments, chemical processing plants, wastewater treatment facilities, and other settings where conventional materials may succumb to corrosion over time.
Stainless steel couplings can also withstand frequent washdowns and cleaning processes without deteriorating, making them an excellent choice for industries with strict hygiene requirements, such as food and pharmaceutical manufacturing.
Overall, the ability of stainless steel couplings to resist corrosion and rust in harsh environments enhances their longevity and ensures reliable performance, making them a preferred choice for critical industrial applications.
"`




editor by CX 2023-08-08