Product Description
PRODUCT
Stainless steel pipe fitting. threaded fittings, including elbow, tee, hex nipple, union, hose nipple, reducing bushing, street elbow, plug, cap, SS ball valve such as 1pc ball valve, 2pc ball valve, 3pc ball valve, socket weld ball valve, butt weld ball valve, flange valve, gate valve, globe valve, mini valve, camlock coupling, quick coupling, type A, type B, type C, type D, type E, type F, type DC, type DP, cam and groove coupling, and so on. Natural surface, silvery finished. BSPP, BSPT, NPT, DIN thread, male and female thread. All materials, Stainless steel 201, Stainless steel 304, Stainless steel 316/316l, butt weld and socket weld end. Pressure 150lb and 3000psi.
| | | | | |
| --- | --- | --- | --- | --- |
| Description | Thread | Surface | Material | Pressure |
| Stainless Coupling | NPT,BSPT,G or others | Natural Color | Stainless steel 201, Stainless steel 304, Stainless steel 316 | 150LB |
PRODUCT DETAILS
Our stainless steel threaded pipe fittings have perfect surface and thread, the thread of pipe fittings are strictly according to the BSPP/BSPT/NPT/DIN standard.
Warehouse and Workshop
We have introduced dozens of advanced CNC lathes to ensure the processing technology of products. Our advanced processing technology can ensure that the products meet the requirements of various standards, and our pipe nipples and pipe fittings have won the certification of the ISO9001 and CE.
PRODUCTION PROCESS
Our staff are all skilled operators, each process is strictly controlled and we have got through the third party inspection. We adopt the international advanced technology, and we have introduced dozens of advanced CNC lathes to ensure the processing technology of products
PAYMENT AND DELIVERY
We accept all kinds of payment terms. We could customize the packing according to your requirments. Boxes/Cartons/Bags/Pallets,etc.
EXHIBITION
Our stainless steel and carbon steel pipe nipples and pipe fittings has won a high reputation from the clients all over the world. We take part in various exhibitions every year and get to know many customers around the world. Most of our clients are from the exhibitions.
OUR TEAM
We have Experienced professional r&d team and international trade service team.We provide OEM/ODM order service or by drawing produce service. We always adhere to the tenet of qualtiy first,reputation first as our business idea. Our factory more than 15 years engaged in the rearch and production of various of stainless steel and carbon steel pipe nipple and pipe fittings.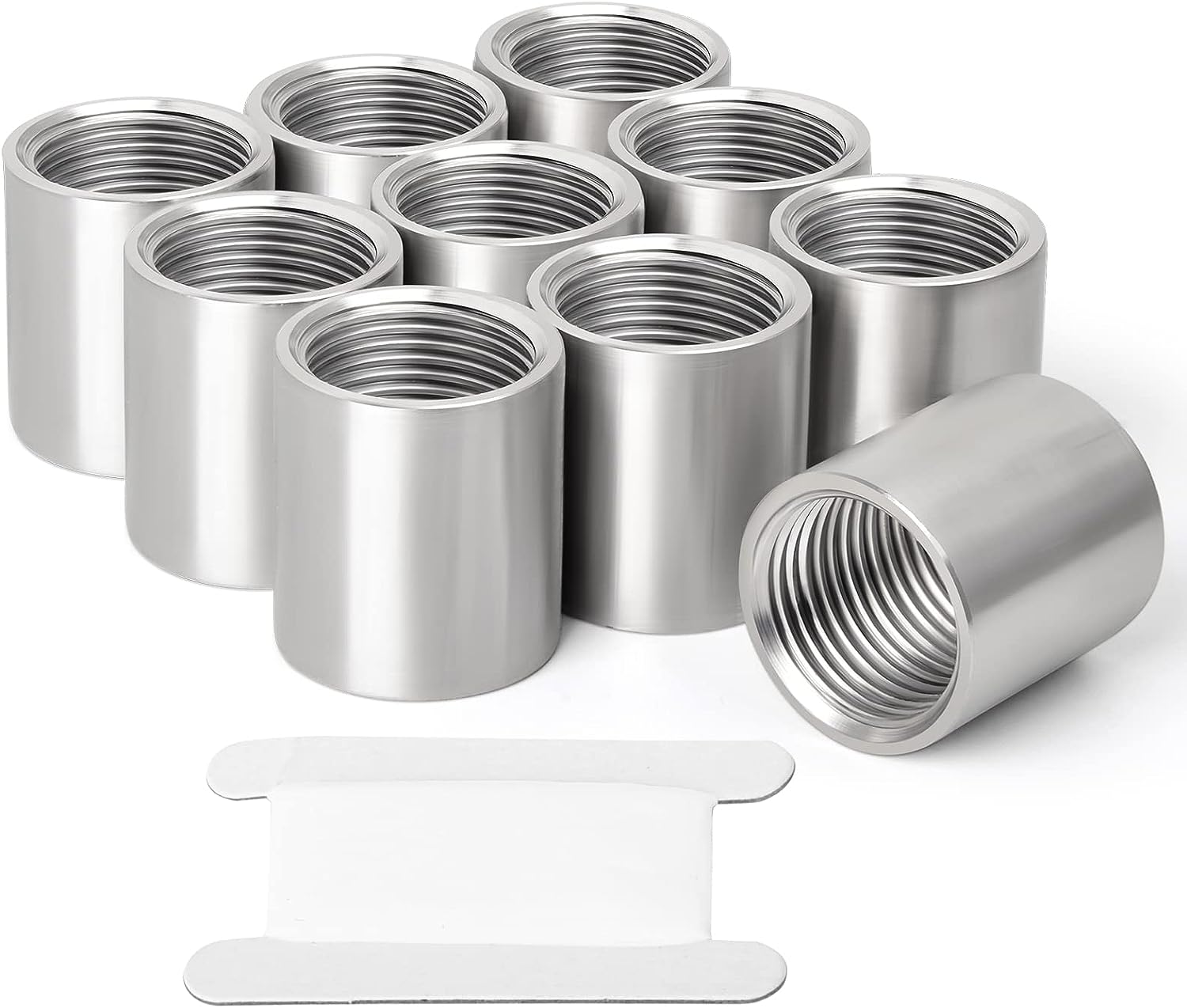 Are there any Safety Considerations When Using Stainless Steel Couplings in Specific Applications?
Yes, there are several safety considerations to keep in mind when using stainless steel couplings in specific applications:
Proper Installation: Ensure that the stainless steel couplings are correctly installed according to the manufacturer's guidelines. Improper installation can lead to misalignment and increased stress on the coupling, potentially causing premature failure.
Temperature and Pressure Limits: Pay attention to the temperature and pressure limits of the stainless steel coupling. Exceeding these limits may compromise the structural integrity of the coupling and pose safety risks.
Corrosion Resistance: While stainless steel is known for its corrosion resistance, it is essential to select the appropriate grade of stainless steel that matches the specific environment in which the coupling will be used. In corrosive environments, using the wrong stainless steel grade can lead to degradation and failure over time.
Maintenance: Regularly inspect and maintain the stainless steel coupling to detect any signs of wear, damage, or corrosion. Address any issues promptly to prevent potential hazards.
Protective Gear: In some industrial applications, the stainless steel coupling may be exposed to rotating parts or other potential hazards. Ensure that appropriate protective gear, such as gloves or safety guards, is used when necessary.
Emergency Shutdown: Establish a proper emergency shutdown procedure in case of coupling failure or other emergencies. This procedure should be clearly communicated to all relevant personnel.
Load Considerations: Be aware of the load requirements and limitations of the stainless steel coupling. Overloading the coupling can lead to stress and failure.
Environmental Factors: Consider environmental factors such as temperature fluctuations, humidity, and exposure to chemicals. These factors can influence the performance and safety of the coupling.
It is essential to conduct a thorough risk assessment for each specific application where stainless steel couplings are used. Following safety guidelines and best practices can help mitigate potential risks and ensure the safe operation of the mechanical system.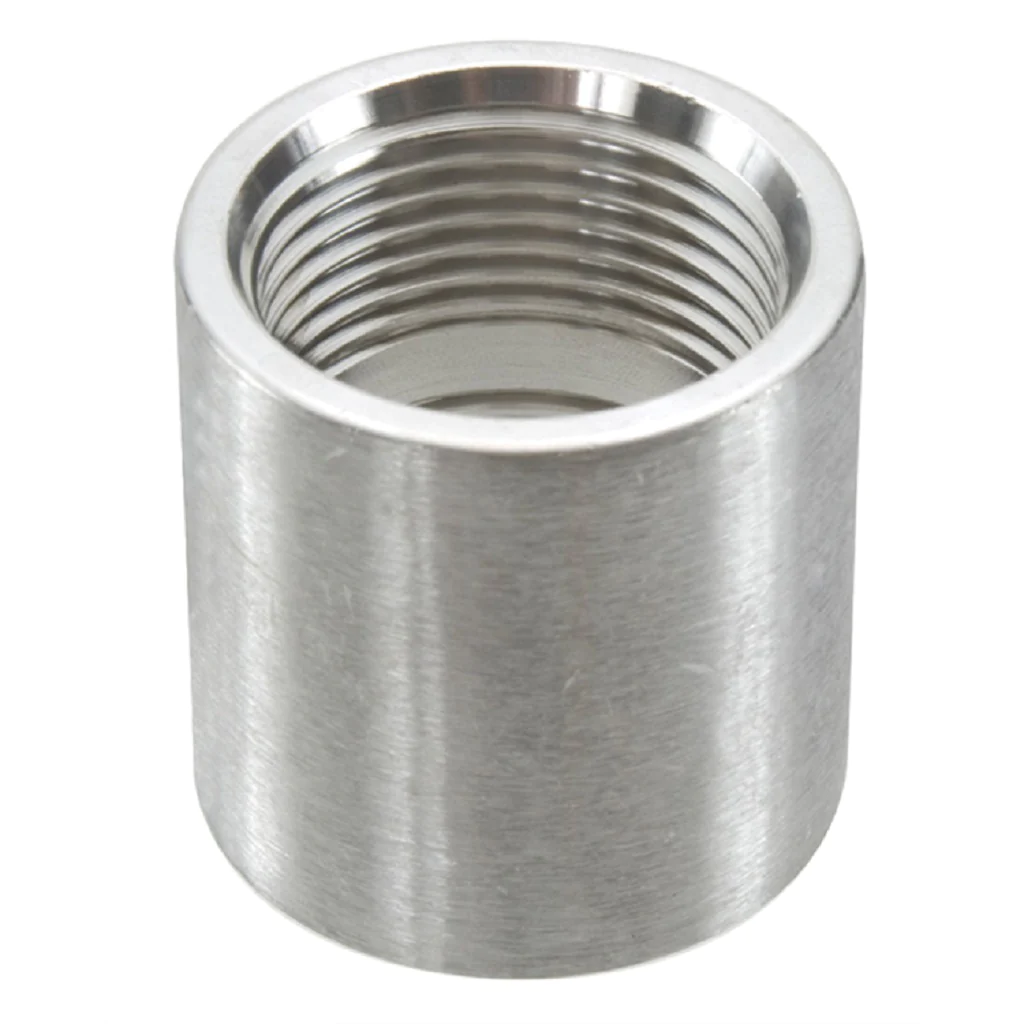 Reducing Vibrations and Noise in Mechanical Systems with Stainless Steel Couplings
Stainless steel couplings play a crucial role in reducing vibrations and noise in mechanical systems through the following mechanisms:
Damping Properties: Stainless steel couplings often have inherent damping properties due to the elasticity of the material. When subjected to vibrations, the stainless steel absorbs and dissipates some of the vibrational energy, reducing the amplitude and impact of vibrations throughout the system.
Flexibility: Stainless steel couplings are available in various designs, including flexible variants. The flexibility allows the coupling to accommodate slight misalignments between the shafts, which helps prevent the transmission of vibrations caused by misalignment to other system components.
Resonance Avoidance: Resonance occurs when the natural frequency of a system matches the excitation frequency, leading to excessive vibrations. Stainless steel couplings with their inherent damping properties can help avoid resonance by absorbing and dissipating vibrational energy before it can build up and cause resonance.
Isolation of Vibrations: Stainless steel couplings act as a mechanical buffer between connected shafts. They can isolate vibrations generated by one component from propagating to other parts of the system. This isolation prevents vibrations from affecting adjacent machinery or components, reducing the overall noise and vibration levels.
Vibration Absorption: In systems where vibrations are prevalent, such as rotating machinery, the stainless steel coupling absorbs and dissipates some of the kinetic energy generated by the moving parts. This energy absorption helps prevent excessive vibrations from reaching critical levels, thus reducing noise and potential damage.
Precision Manufacturing: High-quality stainless steel couplings are precisely engineered and manufactured, ensuring minimal runout and wobble during operation. Precise machining and balancing reduce dynamic forces that can contribute to vibrations and noise.
By effectively reducing vibrations and noise, stainless steel couplings contribute to smoother and quieter operation, extending the lifespan of mechanical components and improving overall system efficiency.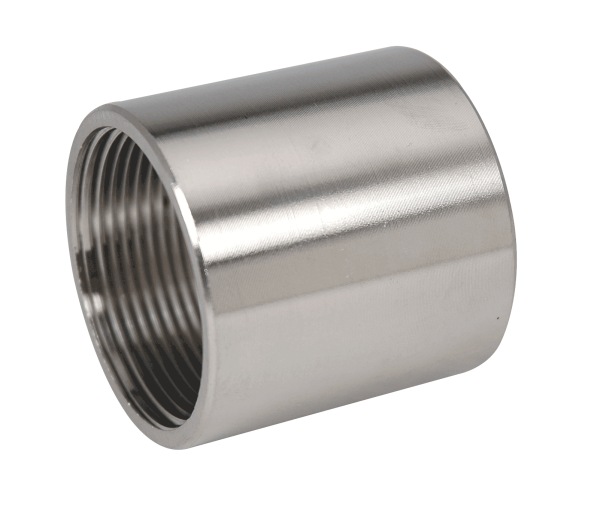 Stainless Steel Coupling: Overview and Distinctive Features
A stainless steel coupling is a type of coupling made from stainless steel material. It is designed to connect two shafts in mechanical power transmission systems. Here are the key characteristics that differentiate stainless steel couplings from other types:
1. Material:
As the name suggests, stainless steel couplings are manufactured using stainless steel, a corrosion-resistant alloy composed of iron, chromium, and other elements. The stainless steel construction provides excellent resistance to rust, oxidation, and chemical corrosion, making these couplings suitable for harsh environments.
2. Corrosion Resistance:
The primary advantage of stainless steel couplings is their high resistance to corrosion. This property allows them to withstand exposure to moisture, chemicals, and extreme temperatures, making them ideal for applications in marine environments, chemical processing, food and beverage industries, and more.
3. Strength and Durability:
Stainless steel is a strong and durable material, which gives stainless steel couplings high load-bearing capabilities and a long service life. These couplings can handle heavy loads and provide reliable performance under demanding conditions.
4. Hygienic Properties:
Stainless steel couplings are known for their hygienic properties, making them suitable for applications in the food and pharmaceutical industries. They are easy to clean and maintain, ensuring the transmission of power without any risk of contamination.
5. Temperature Resistance:
Stainless steel couplings can operate efficiently over a wide temperature range, making them versatile in various industrial settings.
6. Aesthetic Appeal:
Stainless steel has a visually appealing, polished surface finish, making stainless steel couplings suitable for applications where aesthetics are important.
7. Compatibility:
Stainless steel couplings can be used with a wide range of shaft materials, including stainless steel, carbon steel, and others, without causing galvanic corrosion.
8. Reduced Maintenance:
Due to their corrosion resistance and durability, stainless steel couplings require minimal maintenance, resulting in cost savings and increased uptime.
Overall, stainless steel couplings offer a combination of corrosion resistance, strength, and versatility, making them a preferred choice in industries where durability and reliability are essential.
"`




editor by CX 2023-08-07