Product Description
LAMAT PIPING – Stainless Steel Threaded Valves & Fittings
Items
Stainless Steel Threaded Valves
Stainless Steel Threaded Fittings
Name
1PC Ball Valve,2PC Ball Valve,3PC Ball Valve
Elbow,Tee,Cross,Cap,Plug,Bushing,Union,Hose Nipple
Gate Valve,Check Valve,Globe Valve,Valve Strainer
Hex Nipple,Roud Nipple,Hex Plug,Square Plug,Hex Nut
H.S. Code
8481804090
7307290000
Pressure
200PSI(PN16),800PSI(PN40),1000PSI(PN63),2000 PSI(PN125)
150LBS,300LBS
Technology
Casting,Forging
Casting,Welding
Surface Finish
Whitened
Whitened,Polished
Design Standard
ANSI/ASME B16.34,DIN,BS,ISO
ASTM A312/A213/A269,DIN 2462,JIS G3463,BS/DIN EN15711
End Connection
Male Thread, Female Thread
Male Thread, Female Thread, Welded
Size
1/4" – 6"
1/8" – 4"
Material Standard
SS201/ISO A-2,SS304/CF8/1.4401, SS304L, SS316/CF8M/1.4408, SS316L
Thread Standard
ASME B1.20.1 (NPT), BS21(BSP), DIN2999(PT)/259, ISO228/1, ISO7/1
Packages
Plywood Cases + Plywood Pallets + Boxes
Application
Petrochemical & Gas Industry,Chemical,Machinery,Electric Power,Ship Building,Construction Water Works,Valve Industry.
Advantages
High Quality + Ready Stock + Faster Delivery + Customized
Brand
LMP
Certificate
ISO9001,API,CE,UL/FM,WRAS
Factory & Workshop Show
Producing Process & Inspection
Packaging & Shipping
Canton Fair & Exhibitions
Samples Room Show
FAQ
Q0: Are you a factory or trading company?
A: We are a factory mainly producing pipe fittings & flanges. We also have cooperated factories to supply other piping products.
Q1: How do your Control the Quality?
A: We have QA & QC department who will follow up all the producing process to make sure we're supplying correctly.
Q2: What Machines are you using for Manufacturing and Machining?
A: We have Forging/Stamping Machine,CNC Machine,Hole-Drilling Machine,Sandblasting Machine. All producing is in our factory except Galvanization.
Q3: Can we get Samples for Testing?
A: Yes,sapmles are supplied free of charge.
Q4: Can you accept OEM & marking our LOGO?
A: Yes,no problem if you can provide Authorization.
Q5: Can you offer Drawings & Datasheets?
A: Yes,Drawings & Datasheets will be sent for your confirmation before Bulk Production.
Q6: Can you supply MTC with EN15714 3.1/3.2 Certificate?
A: Yes,MTC will be provided after production is finished.
Q7: Can we visit your factory to inspect the goods before delivery?
A: Yes sure. Welcome to our factory,and we also accept Third Party Inspection like SGS,TUV,BV,etc.
Q8: Can you combine goods from our other suppliers to ship together?
A: Yes,we'd like to assist you to ship together to save your time and money.
Q9: How long is your Delivery Time?
A: It depends on quantity and products. It can be delivered in 1 week if we have Ready-Stock; if not,the General Production Time is 25 – 50 Days.
Q10: What's your Payment Terms?
A: Currently we're working with our clients under T/T,L/C,O/A,Western Union,etc.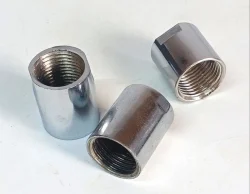 Temperature and Pressure Limits of Stainless Steel Couplings
The temperature and pressure limits of stainless steel couplings can vary depending on the specific design, size, and material of the coupling. In general, stainless steel couplings are known for their excellent temperature and pressure resistance, making them suitable for a wide range of applications, including high-temperature and high-pressure environments.
Temperature Limits:
Stainless steel couplings can typically handle a wide temperature range, from as low as -100°C (-148°F) to as high as 800°C (1472°F) or even higher for specialized high-temperature applications. However, the exact temperature limits depend on factors such as the grade of stainless steel used, the presence of any seals or elastomeric components, and the intended application. Some stainless steel couplings are specifically designed for extreme temperatures in industries like aerospace, oil and gas, and chemical processing.
Pressure Limits:
Stainless steel couplings are known for their excellent strength and resistance to pressure. They can handle pressures ranging from a few hundred PSI (pounds per square inch) to several thousand PSI, depending on the coupling's size and design. High-pressure stainless steel couplings are commonly used in hydraulic systems, oil and gas pipelines, and heavy machinery applications where reliable sealing and pressure containment are critical.
It is important to consult the manufacturer's specifications and technical data to determine the exact temperature and pressure limits of a specific stainless steel coupling model. Using the coupling within the specified limits ensures optimal performance and avoids potential failure or damage.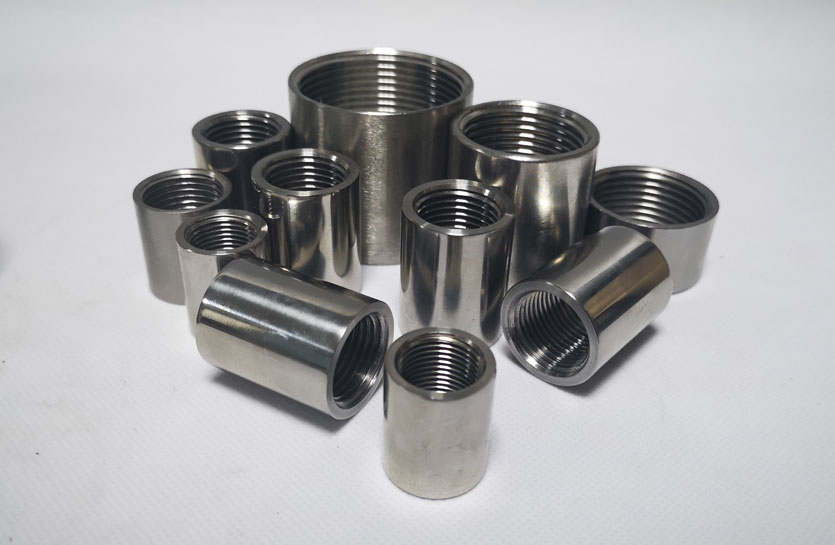 Causes of Failure in Stainless Steel Couplings and Prevention
Stainless steel couplings are designed for durability and reliability, but like any mechanical component, they can experience failure under certain conditions. Understanding the potential causes of failure and taking preventive measures can help ensure the longevity and performance of stainless steel couplings. Some common causes of failure include:
1. Overloading: Exceeding the maximum torque or load capacity of the coupling can lead to deformation or breakage. To prevent overloading, it's essential to choose a coupling with the appropriate torque and load ratings for the specific application.
2. Misalignment: Misalignment between shafts can create additional stresses on the coupling, leading to premature wear and failure. Regularly inspect and adjust shaft alignment to ensure it stays within the coupling's allowable limits.
3. Corrosion: While stainless steel is corrosion-resistant, it is not immune to corrosion, especially in harsh environments with exposure to corrosive substances. Regular cleaning and maintenance can help prevent corrosion-related failure.
4. Fatigue: Repeated cycles of loading and unloading can cause fatigue failure in the coupling. Ensure that the coupling's rated fatigue life matches the application's requirements and replace worn-out couplings promptly.
5. Installation Errors: Improper installation, such as insufficient tightening of set screws or improper keyway fitting, can lead to coupling slippage and failure. Follow the manufacturer's guidelines for correct installation procedures.
6. Contamination: Foreign particles or debris can get trapped between the coupling's mating surfaces, leading to uneven loading and premature wear. Keep the coupling and surrounding area clean to avoid contamination-related issues.
7. Temperature Extremes: Extreme temperature variations can affect the material properties of the coupling and lead to failure. Choose couplings rated for the temperature range of the application.
8. Vibration and Resonance: Excessive vibration or resonance can cause stress concentrations in the coupling, leading to fatigue failure. Dampen vibrations and resonance using appropriate mounting and isolation techniques.
9. Material Defects: Occasionally, manufacturing defects in the stainless steel coupling can cause premature failure. Source couplings from reputable manufacturers with a track record of quality and reliability.
Preventive Measures: To prevent failure and ensure optimal performance, consider the following preventive measures:
Choose the right coupling type and size for the application's torque and load requirements.
Regularly inspect and maintain the coupling, checking for signs of wear, misalignment, or contamination.
Ensure proper installation following the manufacturer's guidelines.
Monitor operating conditions and address any unusual vibrations or temperature variations promptly.
Perform regular shaft alignment checks to avoid excessive misalignment.
Use protective measures such as seals or covers to prevent contamination and corrosion.
Monitor coupling fatigue life and replace worn-out couplings before they reach their fatigue limit.
By understanding the potential causes of failure and implementing appropriate preventive measures, users can increase the reliability and longevity of stainless steel couplings in their applications.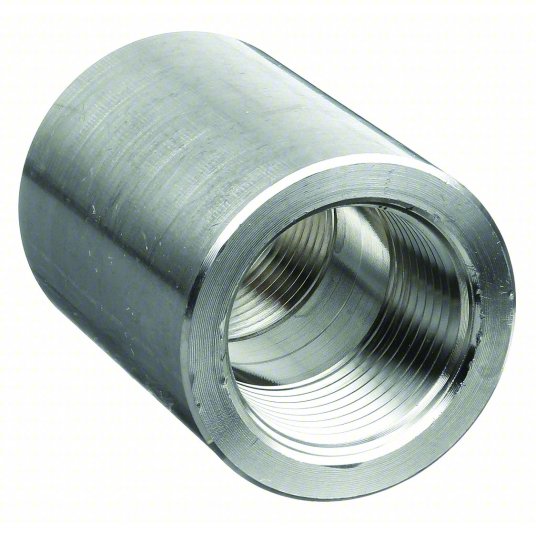 Corrosion Resistance of Stainless Steel Couplings in Harsh Environments
Yes, stainless steel couplings are highly resistant to corrosion and rust in harsh environments. This exceptional corrosion resistance is a result of the specific composition of stainless steel, which includes chromium as a major alloying element.
Chromium forms a protective layer of chromium oxide on the surface of the stainless steel, which acts as a barrier against oxygen and other corrosive elements. This passive layer prevents the metal beneath from coming into direct contact with the surrounding environment, effectively shielding the coupling from corrosion and rust.
In harsh environments where the coupling is exposed to moisture, chemicals, high temperatures, or saltwater, the corrosion-resistant properties of stainless steel ensure that the coupling remains unaffected by the corrosive agents. This makes stainless steel couplings suitable for applications in marine environments, chemical processing plants, wastewater treatment facilities, and other settings where conventional materials may succumb to corrosion over time.
Stainless steel couplings can also withstand frequent washdowns and cleaning processes without deteriorating, making them an excellent choice for industries with strict hygiene requirements, such as food and pharmaceutical manufacturing.
Overall, the ability of stainless steel couplings to resist corrosion and rust in harsh environments enhances their longevity and ensures reliable performance, making them a preferred choice for critical industrial applications.
"`




editor by CX 2023-11-07