Product Description
1.Product Name:
YC-LOK stainless steel quick disconnect couplings
2.Description:
Material: Stainless Steel
Technique: Forged
Type: Tube Fittings
Place of Origin: ZheJiang , China (Mainland)
Brand Name: YC-LOK 
Connection: Thread
Shape: Equal
Head Code: Hexagon
OD Size: 1/16"-1" ,3mm-25mm
Structure: union,elbow,tee,cross,bulkhead,male or female connector
Working Pressure: up to 9000psi
Medium: water, oil, gas, acid ,base and so on
Special Treatment: ferrule hardness treatment
Nut Treatment: silver planted
Tube Treatment: fully annealed
Inner Cone: mirror polishing processing
Working Temperature: -20 to 200 Celsius degree
Power: hydraulic
 
3. Packaging & Delivery
1.Packaging Details:
1. Wooden box
2. Carton
3. As your request. 
2.Delivery Detail:
Shipped in 30 days after payment
3.Logo:
Any logo is available
4.MOQ:
100 pcs
5.Samples:
 Free
6.OEM Accepted
 Yes
7.Production Capacity:
10,000pcs Per week
8.Payment Term:
(1) L/C,T/T,D/P,D/A,PAYPAL,WESTERN UNION,MONEY GRAM
FAQ:
Q1.Can I get free samples?
A: Yes,we can provide you the free sample, but you need to bear their own delivery costs.
 
Q2. Can I have a sample order for fittings?
A: Yes, we welcome sample order to test and check quality. Mixed samples are acceptable.
Q3. Are you a trading company or a manufacturer?
 A: We are a manufacturer.
Q4. What is your payment term?
 A:Normally T/T 50% in advance, balance to be paid before delivery.
 Q5: What is your main market?
 A:North America,Greenland,South America,Africa,Southeast Asia, Former Soviet Republics ,East Asia,and Europe.
 Q6:What kind of trade terms can you do?
A:EX-WORKS,FOB,CFR,CIF,etc.
Q7. What about the lead time?
A:Sample needs 15 days, mass production time needs 35 days.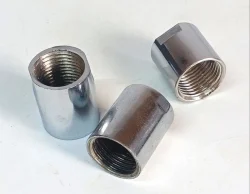 Temperature and Pressure Limits of Stainless Steel Couplings
The temperature and pressure limits of stainless steel couplings can vary depending on the specific design, size, and material of the coupling. In general, stainless steel couplings are known for their excellent temperature and pressure resistance, making them suitable for a wide range of applications, including high-temperature and high-pressure environments.
Temperature Limits:
Stainless steel couplings can typically handle a wide temperature range, from as low as -100°C (-148°F) to as high as 800°C (1472°F) or even higher for specialized high-temperature applications. However, the exact temperature limits depend on factors such as the grade of stainless steel used, the presence of any seals or elastomeric components, and the intended application. Some stainless steel couplings are specifically designed for extreme temperatures in industries like aerospace, oil and gas, and chemical processing.
Pressure Limits:
Stainless steel couplings are known for their excellent strength and resistance to pressure. They can handle pressures ranging from a few hundred PSI (pounds per square inch) to several thousand PSI, depending on the coupling's size and design. High-pressure stainless steel couplings are commonly used in hydraulic systems, oil and gas pipelines, and heavy machinery applications where reliable sealing and pressure containment are critical.
It is important to consult the manufacturer's specifications and technical data to determine the exact temperature and pressure limits of a specific stainless steel coupling model. Using the coupling within the specified limits ensures optimal performance and avoids potential failure or damage.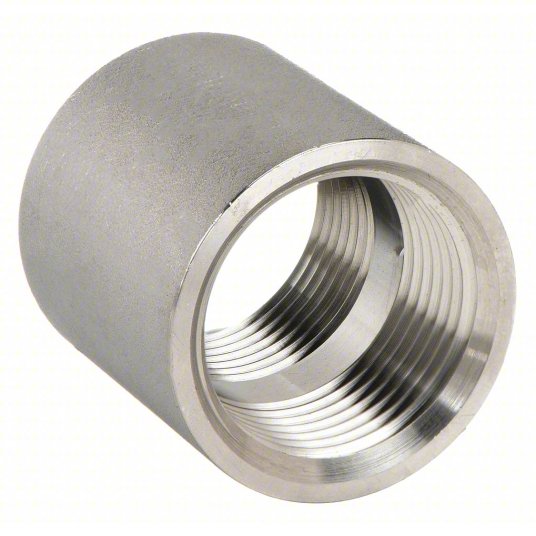 Stainless Steel Couplings in Food Processing and Medical Equipment
Yes, stainless steel couplings are well-suited for use in food processing and medical equipment due to their corrosion-resistant properties. Stainless steel is a family of alloyed steels containing a minimum of 10.5% chromium, which forms a thin, passive oxide layer on the surface of the material. This oxide layer, known as the "passive layer," provides excellent corrosion resistance and protects the stainless steel from chemical and environmental attacks.
In food processing and medical equipment applications, maintaining a hygienic environment is essential to ensure product quality and patient safety. Stainless steel couplings offer several advantages in these industries:
Corrosion Resistance: Stainless steel couplings are resistant to rust, corrosion, and staining, even when exposed to harsh chemicals and cleaning agents used in food processing and medical settings. This property ensures the couplings' integrity and prevents contamination of the processed food or medical products.
Sanitary Design: Stainless steel couplings can be designed with smooth surfaces and rounded edges, reducing the potential for bacterial growth and making them easy to clean and sanitize. The absence of crevices and threads prevents the accumulation of food particles, debris, or contaminants.
High Strength and Durability: Stainless steel couplings offer high strength and durability, making them suitable for heavy-duty applications in both food processing and medical equipment. Their ability to withstand wear, impact, and frequent cleaning cycles ensures a long service life.
Chemical Compatibility: Stainless steel couplings are compatible with a wide range of chemicals and cleaning agents commonly used in food processing and medical facilities. They do not leach harmful substances into the processed food or medical products.
Regulatory Compliance: Stainless steel is often used in food processing and medical equipment because it meets various industry standards and regulatory requirements, such as FDA (Food and Drug Administration) approval for food contact and ISO certifications for medical equipment.
Due to these benefits, stainless steel couplings are commonly used in food processing machines, pharmaceutical manufacturing equipment, medical devices, and other applications where corrosion resistance, cleanliness, and compliance with stringent regulations are critical.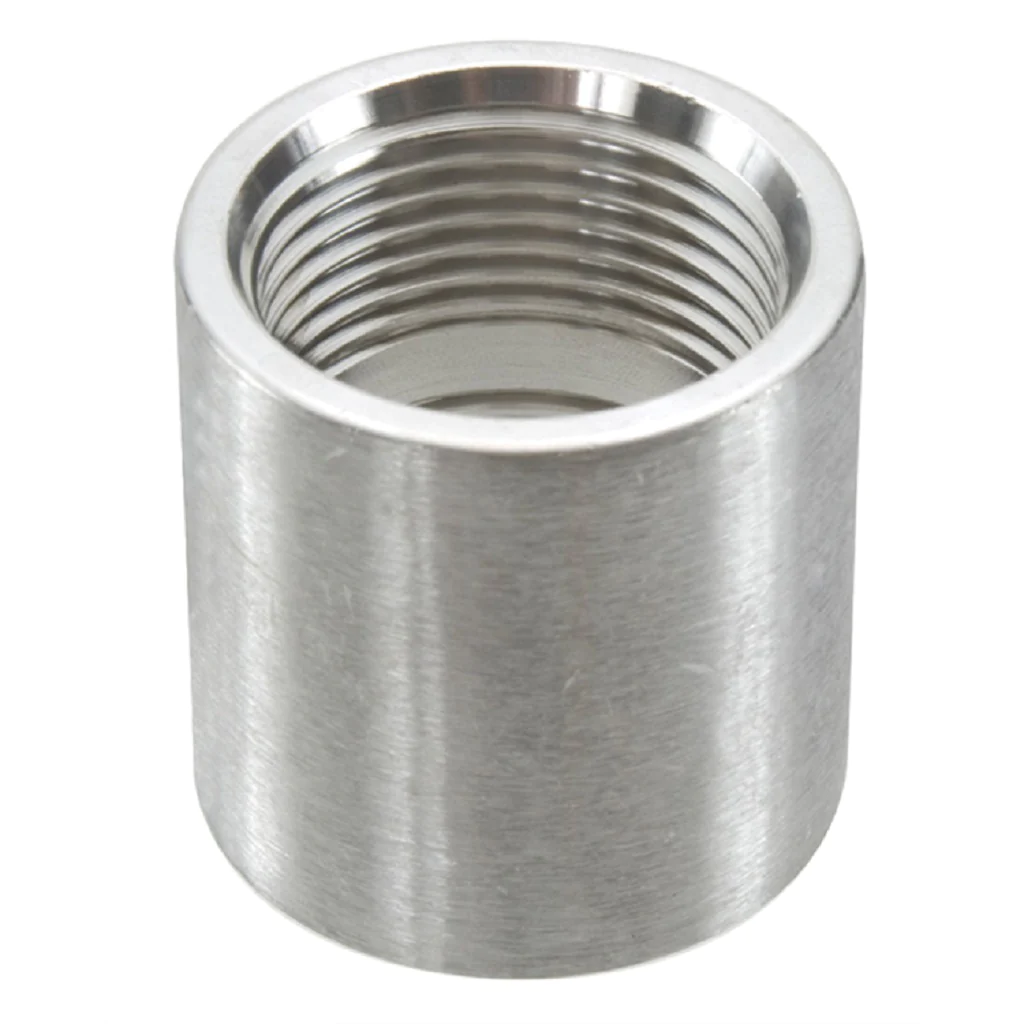 Proper Installation of Stainless Steel Couplings for Optimal Performance
Installing a stainless steel coupling correctly is essential for ensuring its optimal performance and longevity. Follow these steps for proper installation:
Inspect the Coupling: Before installation, carefully inspect the coupling and its components for any damage or defects. Ensure that it matches the required specifications for the application.
Prepare the Shafts: Clean and degrease the shafts to ensure a clean surface for coupling attachment. Remove any debris or contaminants that could affect the coupling's performance.
Align the Shafts: Make sure the shafts are properly aligned to minimize misalignment, which can cause stress on the coupling and lead to premature failure. Use alignment tools to achieve precise alignment.
Apply Lubrication: Apply a thin layer of appropriate lubricant to the mating surfaces of the coupling halves and the shafts. This will reduce friction during installation and future operation.
Assemble the Coupling: Carefully position the coupling halves onto the shafts, ensuring that they are fully engaged and aligned. Follow the manufacturer's instructions for assembly, including torque specifications for clamping screws.
Tighten Clamping Screws: Gradually tighten the clamping screws in a criss-cross pattern to ensure even pressure distribution. Use a torque wrench to achieve the recommended torque value specified by the manufacturer.
Check Runout: After installation, check for any runout or eccentricity by rotating the coupling and observing any visible movement or vibration. Address any runout issues promptly.
Perform a Trial Run: Before putting the coupling into full operation, perform a trial run to ensure smooth operation and check for any signs of abnormal behavior or noise.
Regular Inspections: Implement a maintenance schedule to regularly inspect the coupling for wear, corrosion, or misalignment. Address any issues promptly to prevent further damage.
Properly installing a stainless steel coupling according to these guidelines will help maximize its performance, reliability, and service life in the mechanical system.



editor by CX 2023-08-17