Product Description
PRODUCT INFORMATION
Product name
Stainless steel thread pipe fittings
Material
SS201, SS304/CF8, SS316/CF8M and so on
Size
1/4"-4"&DN6-DN100
Certificate
ISO9001: 2000, CE
Pressure
150LB
Connection Ends
Socket Weld or Threaded: NPT, BSP, BSPT etc
Suitable medium
Petroleum, chemical, power, gas, water, pipeline, heat exchanger, shipbuilding, construction, high&low pressure pipeline, etc
Temperature Range
-20-300 degree C
Type

Elbow, tee, street elbow, cross, coupling, hex nipple, barrel nipple, plug, bushing, cap, union, hose nipple, welding nipple, hex. nut, etc

Our advantage

 

We have been worked in this area for more than 15 years, and we know each market's request, with a good reputation among our customers, we always pursuit a high quality and best service and price
Sample test before machining, and 100% test after the machining
We also have a series of products such as: flanges, pipes, forged fittings, ball valves and butterfly valves; And some hardware parts such: post anchors, ground screws, and some other wooden connectors
7 days / 24 hours online service, and fastest delivery time
We can do OEM products
Delivery time
Usually 25 days around and can negotiate as per order qty
Shipping port
ZheJiang XIHU (WEST LAKE) DIS.G
Term of Payment
T/T, L/C, DP, etc
Package detail
Polybag+cartons+pallet / wooden case
Application
Stainless steel pipeline system, water system, petroleum system, etc
PRODUCT ADVANTAGE
1.Strong toughness, high hardness, easy to use, easy to install
2.Thicker is more durable and reliable, corrosion-resistant, explosion-proof and compression-resistant
3.Lengthen and deepen the thread, thicken the body
OUR COMPANY
HangZhou Bewin pipeline Co., Ltd is 1 of the leading companies dealing in exporting Pipes, Ball Valves, Flanges, Forged Fittings, etc.
Our product range includes: Carbon, alloy and stainless steel. Valve grades including ANSI, JIS, DIN. Pipes in various grades including API-5CT, API-5L, ASTM, ISO, DIN, GB/T. Flanges including ASME, JIS, DIN, NPT, etc.
We have advanced equipment, skilled workers and a strict QC system to ensure accurate size and high-quality products.
 
FAQ
Q: Are you manufacturer or trading company?
A: We are a manufacturer which was established in 2008 and have 11 years producing experience.
Q: What's the advantage of your parts for industry products?
A: Competitive prices, high quality and fast delivery.
Q: How is your payment term?
A: Generally, our payment term is T/T 30% in advance and the balance 70% against the copy of B/L.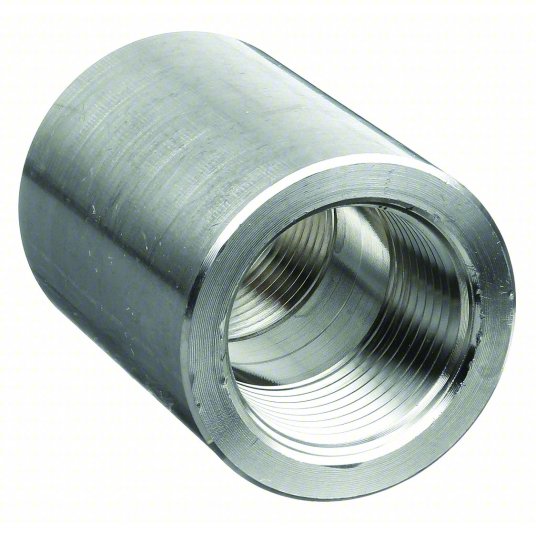 Can Stainless Steel Couplings Withstand High Torque and Heavy Loads?
Yes, stainless steel couplings are designed to withstand high torque and heavy loads in various industrial applications. Stainless steel is known for its excellent mechanical properties, including high strength and durability, making it well-suited for coupling systems that experience significant loads.
Stainless steel couplings are available in different designs, such as rigid couplings, flexible couplings, and beam couplings, each offering specific benefits in terms of torque transmission and load-carrying capacity.
Rigid Stainless Steel Couplings: Rigid couplings provide a solid connection between shafts and are ideal for applications where precise shaft alignment and torque transmission are crucial. They can handle high torque and heavy loads without any noticeable deformation or backlash. Rigid couplings are commonly used in machinery that requires precise motion control and accurate synchronization.
Flexible Stainless Steel Couplings: Flexible couplings, also known as misalignment couplings, can accommodate some degree of shaft misalignment while transmitting torque and handling heavy loads. They are designed to maintain a constant velocity ratio even in situations where shafts are not perfectly aligned. Flexible stainless steel couplings can help reduce stress on bearings and other components by compensating for misalignments and dampening vibrations, making them suitable for various industrial machinery and power transmission systems.
Beam Stainless Steel Couplings: Beam couplings are a type of flexible coupling that uses a helical cut in a stainless steel beam to provide flexibility. They are capable of handling high torque and moderate misalignments while maintaining a compact design. Beam couplings are commonly used in motion control systems, encoders, and other precision equipment that requires torque transmission with minimal backlash.
The load-carrying capacity and torque handling capability of stainless steel couplings depend not only on the design but also on the specific grade and size of the coupling. When selecting a stainless steel coupling for high torque and heavy load applications, it's essential to consider factors such as the operating environment, shaft sizes, misalignment requirements, and overall system specifications.
In summary, stainless steel couplings are well-suited for applications that require withstanding high torque and heavy loads. Proper selection and installation of the appropriate coupling type and size will ensure optimal performance and reliability in demanding industrial settings.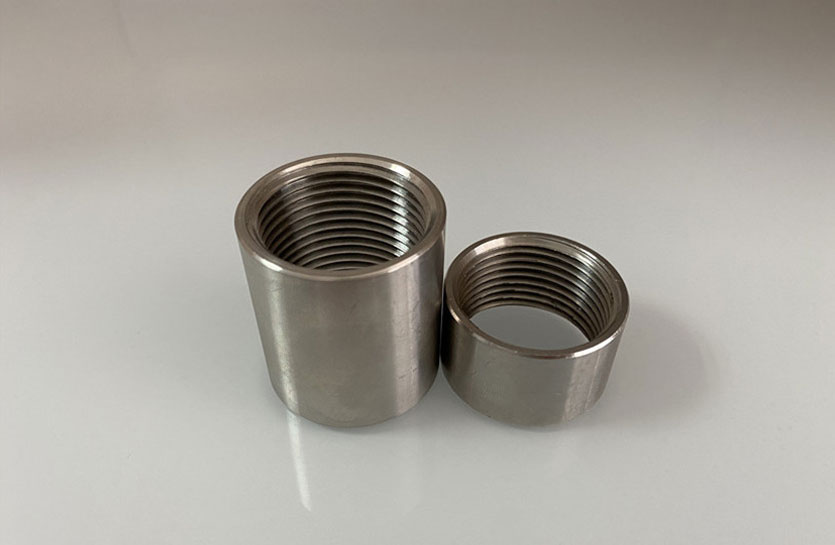 Real-World Case Studies of Stainless Steel Couplings
Stainless steel couplings have been successfully used in numerous demanding situations across various industries. Here are a few real-world case studies that showcase the effectiveness of stainless steel couplings:
Case Study 1: High-Temperature Chemical Processing
In a chemical processing plant that handled corrosive and high-temperature chemicals, stainless steel couplings were employed to connect the pumps and motors in the system. The aggressive nature of the chemicals and the elevated temperatures posed a significant challenge to the equipment's reliability. Stainless steel couplings with high-quality stainless steel alloys and precision machining were chosen to withstand the harsh environment. The couplings demonstrated exceptional corrosion resistance and maintained their structural integrity even at high temperatures, resulting in minimal downtime and increased equipment longevity.
Case Study 2: Marine Propulsion System
In a marine propulsion application, stainless steel couplings were used to connect the diesel engines to the propeller shafts. The couplings were exposed to seawater and had to withstand high torque loads and dynamic conditions during vessel operations. Stainless steel couplings with appropriate shaft misalignment capacity and superior corrosion resistance were selected. The couplings provided reliable performance, reduced vibrations, and eliminated the need for frequent maintenance, contributing to improved fuel efficiency and overall vessel performance.
Case Study 3: Food Processing Equipment
In a food processing facility, stainless steel couplings were integrated into various processing equipment, such as mixers, conveyors, and pumps. The requirement for frequent washdowns and exposure to different food products demanded couplings with excellent hygiene standards and resistance to corrosion. Stainless steel couplings with food-grade stainless steel alloys and smooth surfaces were chosen. These couplings not only complied with food safety regulations but also minimized the risk of contamination and ensured consistent and reliable operation.
Case Study 4: High-Speed Rotating Machinery
In a power generation plant that utilized high-speed rotating machinery, stainless steel couplings were utilized to connect the turbines and generators. The couplings were subjected to high rotational speeds and substantial torque loads. Stainless steel couplings with balanced design and precision manufacturing were employed to reduce vibrations and prevent premature failure. The couplings' ability to handle the demanding conditions ensured uninterrupted power generation and enhanced overall system efficiency.
These case studies demonstrate the versatility and reliability of stainless steel couplings in challenging environments. Whether it's high-temperature chemical processing, marine applications, food processing, or high-speed machinery, stainless steel couplings have consistently proven their value by providing reliable and efficient performance.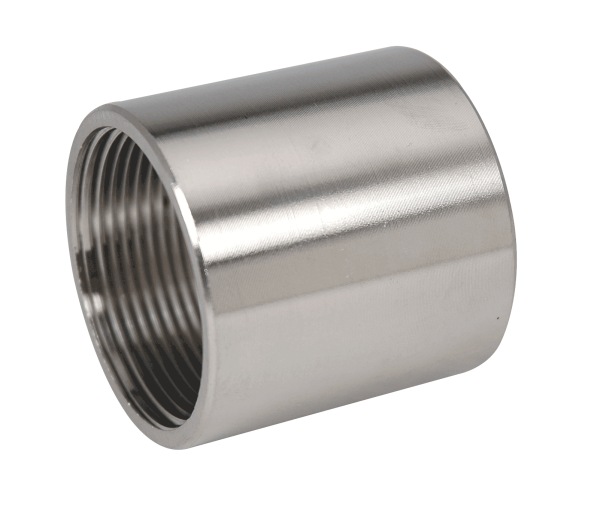 Stainless Steel Coupling: Overview and Distinctive Features
A stainless steel coupling is a type of coupling made from stainless steel material. It is designed to connect two shafts in mechanical power transmission systems. Here are the key characteristics that differentiate stainless steel couplings from other types:
1. Material:
As the name suggests, stainless steel couplings are manufactured using stainless steel, a corrosion-resistant alloy composed of iron, chromium, and other elements. The stainless steel construction provides excellent resistance to rust, oxidation, and chemical corrosion, making these couplings suitable for harsh environments.
2. Corrosion Resistance:
The primary advantage of stainless steel couplings is their high resistance to corrosion. This property allows them to withstand exposure to moisture, chemicals, and extreme temperatures, making them ideal for applications in marine environments, chemical processing, food and beverage industries, and more.
3. Strength and Durability:
Stainless steel is a strong and durable material, which gives stainless steel couplings high load-bearing capabilities and a long service life. These couplings can handle heavy loads and provide reliable performance under demanding conditions.
4. Hygienic Properties:
Stainless steel couplings are known for their hygienic properties, making them suitable for applications in the food and pharmaceutical industries. They are easy to clean and maintain, ensuring the transmission of power without any risk of contamination.
5. Temperature Resistance:
Stainless steel couplings can operate efficiently over a wide temperature range, making them versatile in various industrial settings.
6. Aesthetic Appeal:
Stainless steel has a visually appealing, polished surface finish, making stainless steel couplings suitable for applications where aesthetics are important.
7. Compatibility:
Stainless steel couplings can be used with a wide range of shaft materials, including stainless steel, carbon steel, and others, without causing galvanic corrosion.
8. Reduced Maintenance:
Due to their corrosion resistance and durability, stainless steel couplings require minimal maintenance, resulting in cost savings and increased uptime.
Overall, stainless steel couplings offer a combination of corrosion resistance, strength, and versatility, making them a preferred choice in industries where durability and reliability are essential.
"`




editor by CX 2023-08-18