Product Description
Product Name:Stainless Steel Hose Connector Pipe Fitting Epoxy Groove Shaft Coupling
Key:grooved pipe fitting,steel pipe connector,hardware,elbow,steel pipe coupling
Material:ductile iron/stainless steel/forged steel/alloy steel/Carbon Steel
Surface Treatment:Spray or DIP paint and other corrosion resistant treatment
Packaging:Plastic bags for internal use and wooden cases for external use
Shipping:FedEx,EMS,DHL,AIR or Sea
Payment:T/T,L/C,Money gram,Western union
Application:Fire, water, mines, ships, Marine engineering and other pipeline systems
The body is formed by automatic precision casting or precision forging, with high dimensional accuracy and excellent physical properties.
The sealing ring has the characteristics of high strength, antistatic, flame retardant, anti-tear, etc.The higher the pressure, the better the sealing performance.The selected materials are according to ASTM D2000 standard.The raw materials are imported.
The product has high reliability, fast installation and disassembly, flexible and convenient, easy to operate, less need for repair and maintenance.It can be reused.
The appearance is painted or sprayed with plastic, with excellent flame retardant and antistatic properties.They can easily find water leakage and seepage in the pipeline system.
Detailed Photos
Our Advantages
1. Rich manufacturing experience.
2. Design ability.
We have excellent design and development staff.
3. Perfect equipment.
All kinds of production equipment more than 80 sets, professional inspection, testing equipment more than 50 sets.
4. Strict quality control.
Product manufacturing quality in accordance with ISO90001 quality management system requirements.
5. Serve customers attentively.
(1) 24-hour specially-assigned personnel to solve problems for you.
(2) High production efficiency and punctual delivery.
(3) Perfect after-sales service.
Company Profile
HangZhou CHINAMFG Pipeline System Co., Ltd. is located in the beautiful coastal city of HangZhou. It is a professional national-level high-tech industry engaged in the design, development, manufacture and sales of high-pressure pipeline systems.
The company has passed international management system certifications. Product design and development, production process, and quality control are strictly implemented in accordance with the ISO9001 quality management system requirements; product performance meets the requirements of FM, UL, GB5135.11, GB/T8259 and other domestic and foreign standards.
The main products for long-distance liquid supply system.The main function is to transport liquids such as high-pressure emulsion and high-pressure spray to the partial opening of the working face at a high pressure, to provide power for the hydraulic support of the working face, the self-movement of the loader and the tail of the belt conveyor, etc. Provide high pressure water.
The company has solved the connection and installation of pipeline systems for many large state-owned enterprises, and has won wide acclaim from customers.
Pursuing product quality and serving customers with heart is our company's philosophy.Hope we can cooperate with all customers who have needs for a long time.
FAQ
Q1: Are you a manufacturer?
A. Yes, we are A manufacturer, and our products have been certified by ISO and other international management systems.
Q2: What's your delivery time?
B. Depending on the order quantity and your location, it will take about 15-30 days.
Q3: What are your payment terms?
C. We accept 30% T/T in advance and 70% during shipment or at L/C sight.
Q4: Do you provide samples?
D: If you need some samples for testing, we can make them according to your requirements. Samples will be prepared and sent by express within a week, usually arriving within 4-7 days. You need to pay for the sample and shipping fee.
Q5: Can you design and manufacture specifically for customers?
E: Of course. Our design and development personnel can design and produce products according to your needs.
Q6:Could we pay a visit to your factory?
Yes,you are always welcome to our factory.
Packing&Shipping
Certifications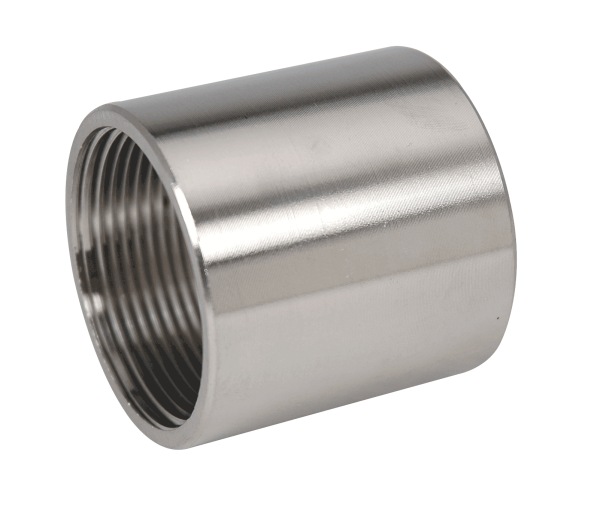 How Does the Grade of Stainless Steel Used in Couplings Impact Their Performance?
The grade of stainless steel used in couplings has a significant impact on their performance and suitability for specific applications. Stainless steel is an alloy that contains varying amounts of elements like chromium, nickel, and molybdenum, which give it different properties. The most common grades of stainless steel used in couplings are:
Austenitic Stainless Steel (e.g., 304, 316): Austenitic stainless steel is the most widely used grade in couplings due to its excellent corrosion resistance, high ductility, and non-magnetic properties. Grade 304 is commonly used in general-purpose applications, while grade 316 offers higher corrosion resistance, making it suitable for more aggressive environments like marine or chemical industries.
Ferritic Stainless Steel (e.g., 430, 446): Ferritic stainless steel has lower corrosion resistance compared to austenitic grades but offers better resistance to stress corrosion cracking. It is used in certain coupling applications where moderate corrosion resistance is sufficient.
Martensitic Stainless Steel (e.g., 410, 420): Martensitic stainless steel is known for its hardness and strength. It is used in couplings that require higher mechanical properties, but it may have reduced corrosion resistance compared to austenitic grades.
Duplex Stainless Steel (e.g., 2205, 2507): Duplex stainless steel combines the properties of austenitic and ferritic grades, offering high strength and better resistance to stress corrosion cracking and pitting. It finds applications in critical coupling systems where both strength and corrosion resistance are essential.
The choice of stainless steel grade depends on the specific requirements of the coupling application. Factors such as environmental conditions, exposure to corrosive substances, temperature, and mechanical stresses must be considered when selecting the appropriate grade. For example, couplings used in marine environments may require a high-grade austenitic stainless steel like 316 to withstand saltwater corrosion, while couplings in food processing may use grade 304 for its hygienic properties and general corrosion resistance.
In summary, the grade of stainless steel used in couplings directly influences their performance in terms of corrosion resistance, strength, ductility, and suitability for various applications. Proper selection of the stainless steel grade ensures that the couplings deliver reliable and long-lasting performance in their intended operating conditions.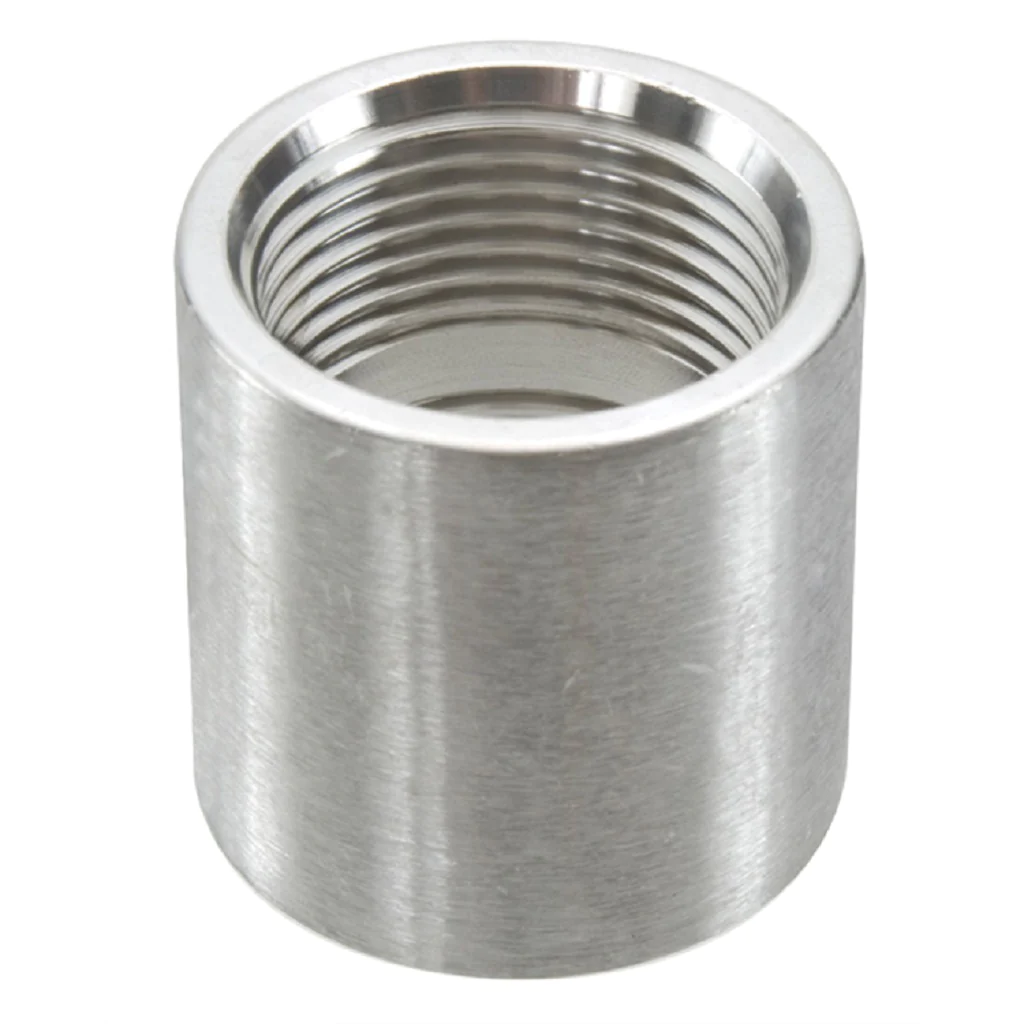 Reducing Vibrations and Noise in Mechanical Systems with Stainless Steel Couplings
Stainless steel couplings play a crucial role in reducing vibrations and noise in mechanical systems through the following mechanisms:
Damping Properties: Stainless steel couplings often have inherent damping properties due to the elasticity of the material. When subjected to vibrations, the stainless steel absorbs and dissipates some of the vibrational energy, reducing the amplitude and impact of vibrations throughout the system.
Flexibility: Stainless steel couplings are available in various designs, including flexible variants. The flexibility allows the coupling to accommodate slight misalignments between the shafts, which helps prevent the transmission of vibrations caused by misalignment to other system components.
Resonance Avoidance: Resonance occurs when the natural frequency of a system matches the excitation frequency, leading to excessive vibrations. Stainless steel couplings with their inherent damping properties can help avoid resonance by absorbing and dissipating vibrational energy before it can build up and cause resonance.
Isolation of Vibrations: Stainless steel couplings act as a mechanical buffer between connected shafts. They can isolate vibrations generated by one component from propagating to other parts of the system. This isolation prevents vibrations from affecting adjacent machinery or components, reducing the overall noise and vibration levels.
Vibration Absorption: In systems where vibrations are prevalent, such as rotating machinery, the stainless steel coupling absorbs and dissipates some of the kinetic energy generated by the moving parts. This energy absorption helps prevent excessive vibrations from reaching critical levels, thus reducing noise and potential damage.
Precision Manufacturing: High-quality stainless steel couplings are precisely engineered and manufactured, ensuring minimal runout and wobble during operation. Precise machining and balancing reduce dynamic forces that can contribute to vibrations and noise.
By effectively reducing vibrations and noise, stainless steel couplings contribute to smoother and quieter operation, extending the lifespan of mechanical components and improving overall system efficiency.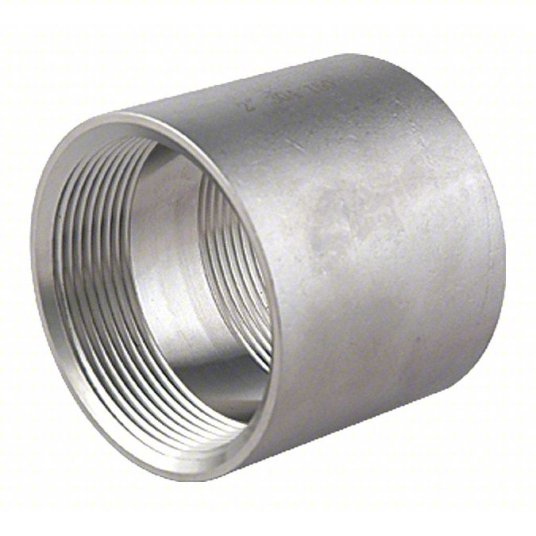 Types of Stainless Steel Couplings
Stainless steel couplings come in various designs and configurations to suit different application requirements. Some common types of stainless steel couplings available in the market include:
1. Clamp-Type Couplings:
These couplings consist of two hubs with screws or clamps that tighten around the shafts to create a secure connection. Clamp-type couplings are easy to install and provide good torque transmission while accommodating shaft misalignments.
2. Oldham Couplings:
Oldham couplings have a unique three-piece design with two hubs connected by a center disk. The disk is made of a different material like acetal or nylon and allows for zero-backlash operation and misalignment compensation.
3. Jaw Couplings:
Jaw couplings are made of two hubs with elastomeric inserts, known as spider elements, that provide shock absorption and misalignment compensation. They are commonly used in pumps, compressors, and other machinery.
4. Disc Couplings:
Disc couplings consist of multiple thin stainless steel discs stacked together with spacer elements. They offer high torsional stiffness and are suitable for applications requiring high torque transmission and precision.
5. Bellows Couplings:
Bellows couplings use thin-walled stainless steel bellows to compensate for misalignments while maintaining a hermetic seal. They are commonly used in vacuum systems and applications requiring precision motion control.
6. Grid Couplings:
Grid couplings feature a flexible grid element between two hubs, providing excellent shock absorption and misalignment compensation. They are commonly used in heavy-duty applications.
7. Multi-Beam Couplings:
Multi-beam couplings have multiple beams that offer flexibility and compensate for misalignments while maintaining torsional stiffness. They are suitable for precise motion control applications.
Each type of stainless steel coupling has its unique advantages and is designed to meet specific performance criteria. When selecting a stainless steel coupling for a particular application, it is essential to consider factors like torque requirements, misalignment compensation, and environmental conditions to ensure optimal performance and longevity.
"`




editor by CX 2023-09-27