Product Description
Product Description
A beam coupling, also known as helical coupling, is a flexible coupling for transmitting torque between 2 shafts while allowing for angular misalignment, parallel offset and even axial motion, of 1 shaft relative to the other. This design utilizes A single piece of material and becomes flexible by removal of material along a spiral path resulting in a curved flexible beam of helical shape. Since it is made from a single piece of material, the Beam Style coupling does not exhibit the backlash found in some multi-piece couplings. Another advantage of being an all machined coupling is the possibility to incorporate features into the final product while still keep the single piece integrity.
Changes to the lead of the helical beam provide changes to misalignment capabilities as well as other performance characteristics such as torque capacity and torsional stiffness. It is even possible to have multiple starts within the same helix.
The material used to manufacture the beam coupling also affects its performance and suitability for specific applications such as food, medical and aerospace. Materials are typically aluminum alloy and stainless steel, but they can also be made in acetal, maraging steel and titanium. The most common applications are attaching encoders to shafts and motion control for robotics.
Features
1.Materail: Aluminium alloy or steel
2.Elastic Spider: Three type of Elatic Spider can be choosed 86SH. A 92SH. A 98SH. A 
3.Surface treatment: black finished / Anodizing 
4.High sensitivity  High torque rigid Zero back lash 
5.Type of shaft lock: Set screw or Clamp type 
6.Stock to ensure a prompt delivery with in 2 weeks.
7.High-performance with competitive prices.
Except our standard parts, we also can make the parts according customers' drawing or design according customer requirement, please send us enquiry if there any need.
Detailed Photos
Product Parameters
Packaging & Shipping
Package
 Standard suitable package / Pallet or container.
 Polybag inside export carton outside, blister and Tape and reel package available.
 If customers have specific requirements for the packaging, we will gladly accommodate.
Shipping

 10-20working days ofter payment receipt comfirmed (based on actual quantity).
 Packing standard export packing or according to customers demand.   

 Professional goods shipping forward.
Company Profile
FAQ
Q: Are you trading company or manufacturer?
A: We are factory.
Q: How long is your delivery time?
A: Generally it is 5-10 days if the goods are in stock. or it is 15-20 days if the goods are not in stock, it is according to quantity.
Q: Do you provide samples ? is it free or extra ?
A: Yes, we could offer the sample for free charge but do not pay the cost of freight.
Q: What is your terms of payment ?
A: Payment=1000USD, 30% T/T in advance ,balance before shippment.
We warmly welcome friends from domestic and abroad come to us for business negotiation and cooperation for mutual benefit. To supply customers excellent quality products with good price and punctual delivery time is our responsibility.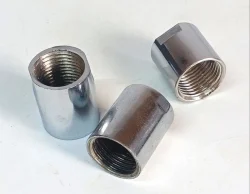 Temperature and Pressure Limits of Stainless Steel Couplings
The temperature and pressure limits of stainless steel couplings can vary depending on the specific design, size, and material of the coupling. In general, stainless steel couplings are known for their excellent temperature and pressure resistance, making them suitable for a wide range of applications, including high-temperature and high-pressure environments.
Temperature Limits:
Stainless steel couplings can typically handle a wide temperature range, from as low as -100°C (-148°F) to as high as 800°C (1472°F) or even higher for specialized high-temperature applications. However, the exact temperature limits depend on factors such as the grade of stainless steel used, the presence of any seals or elastomeric components, and the intended application. Some stainless steel couplings are specifically designed for extreme temperatures in industries like aerospace, oil and gas, and chemical processing.
Pressure Limits:
Stainless steel couplings are known for their excellent strength and resistance to pressure. They can handle pressures ranging from a few hundred PSI (pounds per square inch) to several thousand PSI, depending on the coupling's size and design. High-pressure stainless steel couplings are commonly used in hydraulic systems, oil and gas pipelines, and heavy machinery applications where reliable sealing and pressure containment are critical.
It is important to consult the manufacturer's specifications and technical data to determine the exact temperature and pressure limits of a specific stainless steel coupling model. Using the coupling within the specified limits ensures optimal performance and avoids potential failure or damage.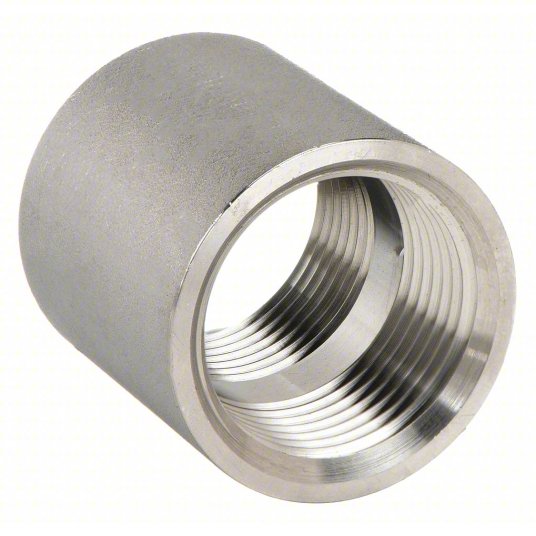 Stainless Steel Couplings in Food Processing and Medical Equipment
Yes, stainless steel couplings are well-suited for use in food processing and medical equipment due to their corrosion-resistant properties. Stainless steel is a family of alloyed steels containing a minimum of 10.5% chromium, which forms a thin, passive oxide layer on the surface of the material. This oxide layer, known as the "passive layer," provides excellent corrosion resistance and protects the stainless steel from chemical and environmental attacks.
In food processing and medical equipment applications, maintaining a hygienic environment is essential to ensure product quality and patient safety. Stainless steel couplings offer several advantages in these industries:
Corrosion Resistance: Stainless steel couplings are resistant to rust, corrosion, and staining, even when exposed to harsh chemicals and cleaning agents used in food processing and medical settings. This property ensures the couplings' integrity and prevents contamination of the processed food or medical products.
Sanitary Design: Stainless steel couplings can be designed with smooth surfaces and rounded edges, reducing the potential for bacterial growth and making them easy to clean and sanitize. The absence of crevices and threads prevents the accumulation of food particles, debris, or contaminants.
High Strength and Durability: Stainless steel couplings offer high strength and durability, making them suitable for heavy-duty applications in both food processing and medical equipment. Their ability to withstand wear, impact, and frequent cleaning cycles ensures a long service life.
Chemical Compatibility: Stainless steel couplings are compatible with a wide range of chemicals and cleaning agents commonly used in food processing and medical facilities. They do not leach harmful substances into the processed food or medical products.
Regulatory Compliance: Stainless steel is often used in food processing and medical equipment because it meets various industry standards and regulatory requirements, such as FDA (Food and Drug Administration) approval for food contact and ISO certifications for medical equipment.
Due to these benefits, stainless steel couplings are commonly used in food processing machines, pharmaceutical manufacturing equipment, medical devices, and other applications where corrosion resistance, cleanliness, and compliance with stringent regulations are critical.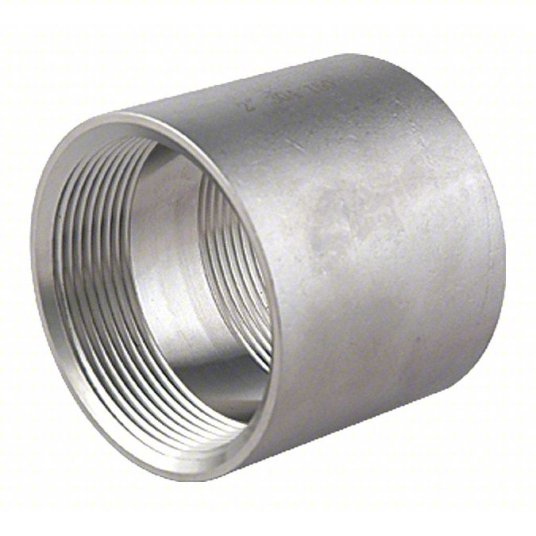 Types of Stainless Steel Couplings
Stainless steel couplings come in various designs and configurations to suit different application requirements. Some common types of stainless steel couplings available in the market include:
1. Clamp-Type Couplings:
These couplings consist of two hubs with screws or clamps that tighten around the shafts to create a secure connection. Clamp-type couplings are easy to install and provide good torque transmission while accommodating shaft misalignments.
2. Oldham Couplings:
Oldham couplings have a unique three-piece design with two hubs connected by a center disk. The disk is made of a different material like acetal or nylon and allows for zero-backlash operation and misalignment compensation.
3. Jaw Couplings:
Jaw couplings are made of two hubs with elastomeric inserts, known as spider elements, that provide shock absorption and misalignment compensation. They are commonly used in pumps, compressors, and other machinery.
4. Disc Couplings:
Disc couplings consist of multiple thin stainless steel discs stacked together with spacer elements. They offer high torsional stiffness and are suitable for applications requiring high torque transmission and precision.
5. Bellows Couplings:
Bellows couplings use thin-walled stainless steel bellows to compensate for misalignments while maintaining a hermetic seal. They are commonly used in vacuum systems and applications requiring precision motion control.
6. Grid Couplings:
Grid couplings feature a flexible grid element between two hubs, providing excellent shock absorption and misalignment compensation. They are commonly used in heavy-duty applications.
7. Multi-Beam Couplings:
Multi-beam couplings have multiple beams that offer flexibility and compensate for misalignments while maintaining torsional stiffness. They are suitable for precise motion control applications.
Each type of stainless steel coupling has its unique advantages and is designed to meet specific performance criteria. When selecting a stainless steel coupling for a particular application, it is essential to consider factors like torque requirements, misalignment compensation, and environmental conditions to ensure optimal performance and longevity.
"`




editor by CX 2023-09-21