Product Description
Product Description
We are from HangZhou Shuntong Hydraulic Co., Ltd. Our company produces various types of hydraulic hose joints, including inch, metric, American, and other threaded joints, straight, 45-degree angle bend, 90-degree angle bend, tee series, and other products. The main materials are carbon steel galvanized, stainless steel, copper, etc.
Product Parameters
| | | | |
| --- | --- | --- | --- |
| Model NO | A,B,C,D,E,F,DC,DP | Type | Camlock Coupling |
| Raw Material | Aluminum | Color | White |
| Salt Spray Test | More Than 72 Hours | Surface | Chrome Plating |
| Specification | Quick Release Couplings | Trademark | ST |
| HS Code | 735710000 | Origin | HangZhou China |
| Package | Carton Box+wooden Case | After-sales Service Provided | Online support, Video technical support |
Product Details
Packaging & Shipping
Company Profile
Company Profile
From the moment we receive an order until it is fulfilled, HangZhou Shuntong Hydraulic Equipment's company strategy is to give dependable service to our customers. Every step of the process, our knowledgeable staff will accompany you and keep you updated. We can secure growth and stability, but most importantly, client happiness, in this manner.
Our Team
FAQ
1. Are you a factory or a trading company?
We are a professional manufacturer for kinds of hydraulic fittings and adapters in China
2. What is your MOQ?
At least $3000
3. What payment methods are supported?
A: Payment: By T/T, Paypal, L/C, Western Union, Money Gram for samples 100% with the order, for production, 30% paid for deposit by before production arrangement, the balance to be paid before shipment. Negotiation is accepted.
4. Can You Make Customized Products?
We can produce according to your drawings or samples.
And we would negotiate with you if there is mold cost.
5. How many hours can your salt spray test reach?
"0~96 hours, no rust
96~120 hours, white rust
>120 hours, red rust"
6. How do I cancel or change products on an order?  
 If you need to cancel or change items on an order that has already been submitted, contact our Customer Care Team as soon as possible. Be sure to have your order confirmation number and the specific item numbers ready as reference.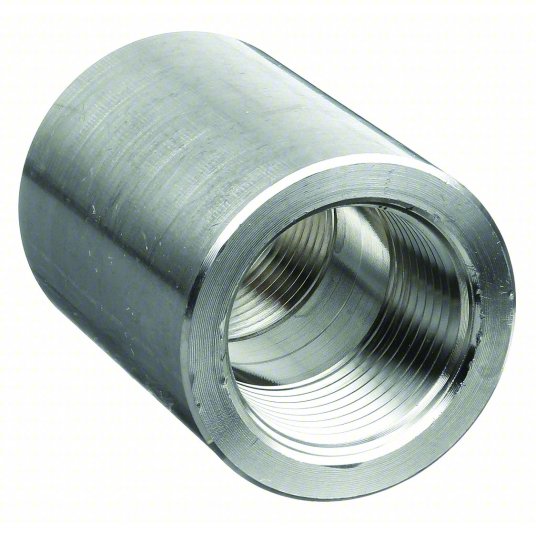 Can Stainless Steel Couplings Withstand High Torque and Heavy Loads?
Yes, stainless steel couplings are designed to withstand high torque and heavy loads in various industrial applications. Stainless steel is known for its excellent mechanical properties, including high strength and durability, making it well-suited for coupling systems that experience significant loads.
Stainless steel couplings are available in different designs, such as rigid couplings, flexible couplings, and beam couplings, each offering specific benefits in terms of torque transmission and load-carrying capacity.
Rigid Stainless Steel Couplings: Rigid couplings provide a solid connection between shafts and are ideal for applications where precise shaft alignment and torque transmission are crucial. They can handle high torque and heavy loads without any noticeable deformation or backlash. Rigid couplings are commonly used in machinery that requires precise motion control and accurate synchronization.
Flexible Stainless Steel Couplings: Flexible couplings, also known as misalignment couplings, can accommodate some degree of shaft misalignment while transmitting torque and handling heavy loads. They are designed to maintain a constant velocity ratio even in situations where shafts are not perfectly aligned. Flexible stainless steel couplings can help reduce stress on bearings and other components by compensating for misalignments and dampening vibrations, making them suitable for various industrial machinery and power transmission systems.
Beam Stainless Steel Couplings: Beam couplings are a type of flexible coupling that uses a helical cut in a stainless steel beam to provide flexibility. They are capable of handling high torque and moderate misalignments while maintaining a compact design. Beam couplings are commonly used in motion control systems, encoders, and other precision equipment that requires torque transmission with minimal backlash.
The load-carrying capacity and torque handling capability of stainless steel couplings depend not only on the design but also on the specific grade and size of the coupling. When selecting a stainless steel coupling for high torque and heavy load applications, it's essential to consider factors such as the operating environment, shaft sizes, misalignment requirements, and overall system specifications.
In summary, stainless steel couplings are well-suited for applications that require withstanding high torque and heavy loads. Proper selection and installation of the appropriate coupling type and size will ensure optimal performance and reliability in demanding industrial settings.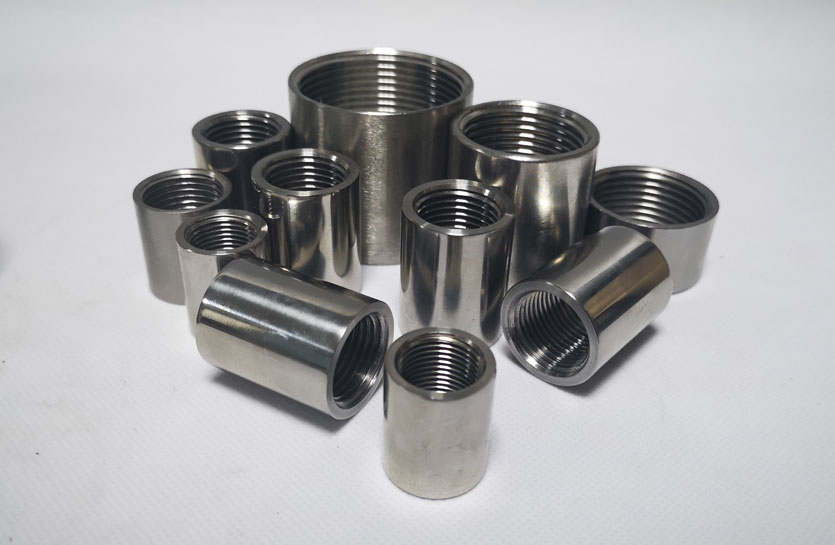 Causes of Failure in Stainless Steel Couplings and Prevention
Stainless steel couplings are designed for durability and reliability, but like any mechanical component, they can experience failure under certain conditions. Understanding the potential causes of failure and taking preventive measures can help ensure the longevity and performance of stainless steel couplings. Some common causes of failure include:
1. Overloading: Exceeding the maximum torque or load capacity of the coupling can lead to deformation or breakage. To prevent overloading, it's essential to choose a coupling with the appropriate torque and load ratings for the specific application.
2. Misalignment: Misalignment between shafts can create additional stresses on the coupling, leading to premature wear and failure. Regularly inspect and adjust shaft alignment to ensure it stays within the coupling's allowable limits.
3. Corrosion: While stainless steel is corrosion-resistant, it is not immune to corrosion, especially in harsh environments with exposure to corrosive substances. Regular cleaning and maintenance can help prevent corrosion-related failure.
4. Fatigue: Repeated cycles of loading and unloading can cause fatigue failure in the coupling. Ensure that the coupling's rated fatigue life matches the application's requirements and replace worn-out couplings promptly.
5. Installation Errors: Improper installation, such as insufficient tightening of set screws or improper keyway fitting, can lead to coupling slippage and failure. Follow the manufacturer's guidelines for correct installation procedures.
6. Contamination: Foreign particles or debris can get trapped between the coupling's mating surfaces, leading to uneven loading and premature wear. Keep the coupling and surrounding area clean to avoid contamination-related issues.
7. Temperature Extremes: Extreme temperature variations can affect the material properties of the coupling and lead to failure. Choose couplings rated for the temperature range of the application.
8. Vibration and Resonance: Excessive vibration or resonance can cause stress concentrations in the coupling, leading to fatigue failure. Dampen vibrations and resonance using appropriate mounting and isolation techniques.
9. Material Defects: Occasionally, manufacturing defects in the stainless steel coupling can cause premature failure. Source couplings from reputable manufacturers with a track record of quality and reliability.
Preventive Measures: To prevent failure and ensure optimal performance, consider the following preventive measures:
Choose the right coupling type and size for the application's torque and load requirements.
Regularly inspect and maintain the coupling, checking for signs of wear, misalignment, or contamination.
Ensure proper installation following the manufacturer's guidelines.
Monitor operating conditions and address any unusual vibrations or temperature variations promptly.
Perform regular shaft alignment checks to avoid excessive misalignment.
Use protective measures such as seals or covers to prevent contamination and corrosion.
Monitor coupling fatigue life and replace worn-out couplings before they reach their fatigue limit.
By understanding the potential causes of failure and implementing appropriate preventive measures, users can increase the reliability and longevity of stainless steel couplings in their applications.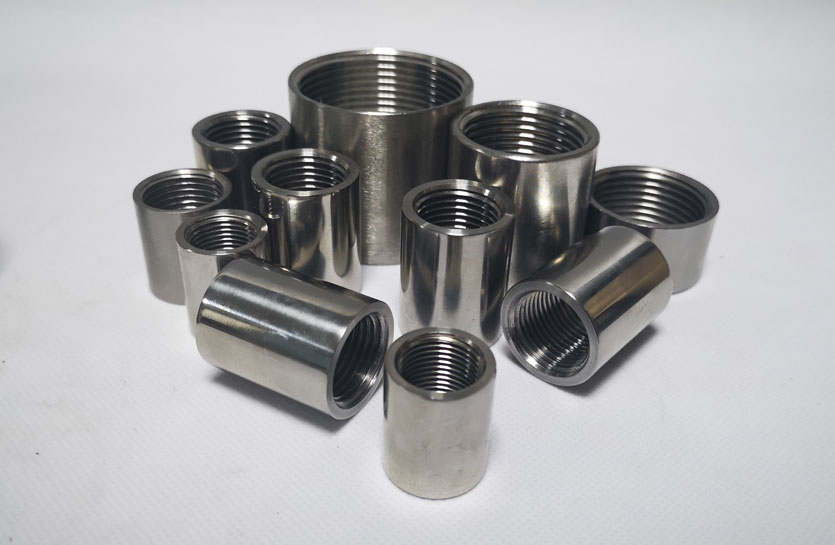 Advantages of Stainless Steel Couplings in Various Applications
Stainless steel couplings offer several advantages that make them suitable for a wide range of applications in diverse industries:
1. Corrosion Resistance:
The primary advantage of stainless steel couplings is their exceptional resistance to corrosion. They can withstand exposure to moisture, chemicals, and aggressive environments, making them ideal for applications in marine, chemical processing, and food industries.
2. Durability:
Stainless steel couplings are known for their strength and durability. They can handle high loads and provide reliable performance over extended periods, reducing the need for frequent replacements and lowering maintenance costs.
3. Hygienic Properties:
In industries like food, pharmaceuticals, and healthcare, stainless steel couplings are preferred due to their hygienic properties. They are easy to clean and maintain, ensuring that the transmission of power does not pose any risk of contamination.
4. Temperature Resistance:
Stainless steel couplings can operate efficiently over a wide temperature range, making them suitable for both low-temperature and high-temperature applications.
5. Versatility:
Stainless steel couplings can be used with different types of shaft materials without causing galvanic corrosion. This compatibility allows for flexibility in coupling selection for various equipment setups.
6. Aesthetic Appeal:
Stainless steel has an attractive, polished surface finish, which enhances the visual appeal of equipment where the couplings are visible.
7. Reduced Maintenance:
Thanks to their corrosion resistance and durability, stainless steel couplings require minimal maintenance, resulting in cost savings and increased uptime.
8. Safety and Reliability:
Stainless steel couplings offer high reliability in critical applications, ensuring safe and uninterrupted operation of machinery.
9. Resistance to Wear and Tear:
Stainless steel couplings resist wear and tear caused by frequent start-stop cycles or shock loads, ensuring consistent performance over time.
Overall, stainless steel couplings are favored in applications where corrosion resistance, strength, and reliability are crucial. Their versatility and ability to perform well in challenging environments make them a valuable component in a wide range of industrial machinery and equipment.
"`




editor by CX 2023-11-21